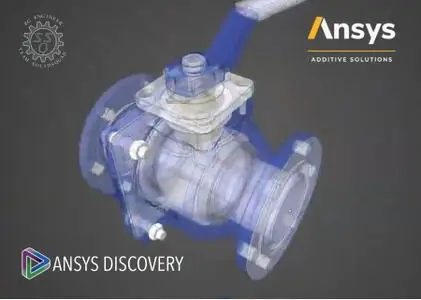 ANSYS Discovery Ultimate 2021 R1.6 | 5.4 Gb
The Ansys Discovery development team is pleased to announce the availability of Discovery 2021 R1.6 is the first simulation-driven design tool to combine instant physics simulation, proven Ansys high-fidelity simulation and interactive geometry modeling in a single user experience.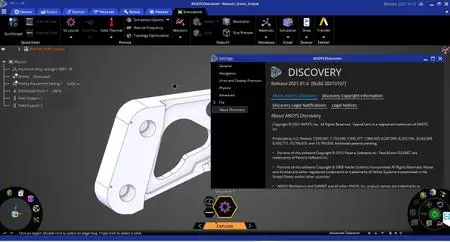 Ansys Discovery
is the first simulation-driven design tool to combine instant physics simulation, proven Ansys high-fidelity simulation and interactive geometry modeling in a single user experience. Leveraging the all-new Discovery early in your product design processes will drive substantial gains in engineering productivity, spur innovation and increase your product's overall performance.
With the launch of Ansys Discovery, Ansys has kicked off a significant expansion of its nextgeneration simulation products. But first, a bit of history, in case you've not been keeping a close eye on the company recently: A couple of years ago, it launched Ansys Discovery Live (ADL), which focuses on making simulation much faster to use.
Rather than following the traditional, step-by-step 'build-mesh-load-solve' approach, Ansys Discovery Live uses new technologies that take advantage of GPU compute power in order to obscure a good deal of the complexity of this multi-step process.
The result is a near-real-time simulation system for both fluid flow and static structural problems.
Discovery Live has since grown in capabilities and has also become a core part of PTC's simulation offering, with its integration into Creo 7. But the issue here – as always with simulation – is that when you boost speed dramatically, you typically experience some kind of trade-off.
To put it bluntly, there is an element of 'close enough' with Discovery Live. For many users, that's fine. Others, by contrast, much prefer finer, more accurate results over speed.
And even for that former, 'close enough' group, an issue with ADL is that while it provides them with quick insight into product performance and a way to vastly accelerate experimentation with the interplay of form, function and physics, this is achieved at some remove from their validation tools.
All of which brings us to the present day. Ansys has now launched a system – Ansys Discovery – that builds not only on the work done with Discovery Live, but also with other products in its portfolio, including Ansys AIM.
In short, the company has delivered a system that enables users to carry out fast-paced experimentation using real-time solvers, but subsequently validate them further, as needed, using a more traditional solver (such as Ansys Mechanical or Fluent), just as they might in a more traditional workflow.
Ansys Discovery 2021 R1 | Announcing New Features | AESC
Founded in 1970, ANSYS
employs nearly 3,000 professionals, many of whom are expert M.S. and Ph.D.-level engineers in finite element analysis, computational fluid dynamics, electronics, semiconductors, embedded software and design optimization. Our exceptional staff is passionate about pushing the limits of world-class simulation technology so our customers can turn their design concepts into successful, innovative products faster and at lower cost. As a measure of our success in attaining these goals, ANSYS has been recognized as one of the world's most innovative companies by prestigious publications such as Bloomberg Businessweek and FORTUNE magazines.
Product:
ANSYS Discovery
Version:
Ultimate 2021 R1.6 (Build 20210107)
Supported Architectures:
x64
Website Home Page :
www.ansys.com
Language:
multilanguage
System Requirements:
PC *
Size:
5.4 Gb
Ansys Discovery Hardware Requirements

General Requirements
Minimum requirements for Ansys Discovery software are as follows:
- 64-bit Intel or AMD system, running Windows 10.
- 8 GB RAM
- A dedicated graphics card with latest drivers and at least 1GB video RAM, capable of supporting OpenGL 4.5 and DirectX 11, or higher. Use of integrated graphics (e.g. Intel HD/IRIS) is not recommended and is not support by the Analyze stage in Discovery. See below for special graphics requirements for ANSYS Discovery Live.
- 3 button mouse

Ansys Discovery Live and Explore Stage Graphics Requirements

Ansys Discovery Live or the Explore stage in Ansys Discovery relies on the latest GPU technology to provide its computation and visual experience. To run the software, you will require:

- A dedicated NVIDIA GPU card (Quadro recommended, GeForce supported) based on the Kepler, Maxwell, Pascal, or Turing architecture. Maxwell 2000 or better strongly recommended.
- At least 4GB of video RAM (8GB recommended) on the GPU.

The Discovery Live Compatibility Utility will be run following installation to verify if your current graphics hardware is capable of supporting Ansys Discovery Live. If you do not have a graphics card that meets these specifications, the software will not run. Also, please ensure you have the latest driver for your graphics card, available from NVIDIA Driver Downloads.
Please visit my blog
Added by 3% of the overall size of the archive of information for the restoration

No mirrors please