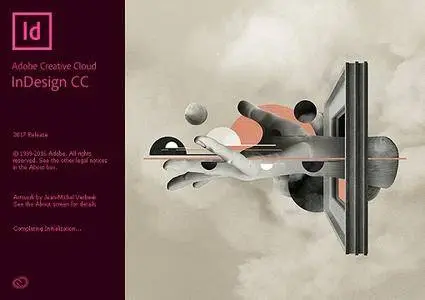 Adobe InDesign CC 2017 v12.1.0.56 MacOSX | 960 Mb
Craft elegant layouts at your desk or on the go. The industry-leading page design and layout toolset lets you work across desktop and mobile devices to create, preflight, and publish everything from printed books and brochures to digital magazines, iPad apps, eBooks, and interactive online documents.
Polished pages, faster than ever.
See how the latest release helps you design layouts faster, from creating footnotes with more control to easily working with OpenType fonts.
- Create footnotes that span multiple columns in a specific frame or across entire documents.
- Click on selected text to see OpenType font properties, and apply properties to characters, words, or a story in seconds.
- Find Adobe Stock assets — including images, graphics, videos, and our new Premium collection — right from the InDesign search field.
- Publish and distribute documents online for viewing in desktop and mobile browsers. Track their performance, share, and embed directly from the dashboard.
Go from blank page to brilliant.
InDesign is part of Creative Cloud, which means you can access all your assets — including Adobe Stock — right inside the app and quickly turn any inspiration into a beautiful work of art. And with Adobe CreativeSync, everything is connected across your desktop and mobile apps.
All your assets. Always at your fingertips.
Creative Cloud Libraries store all your colors, shapes, graphics, fonts from Adobe Typekit, and other creative assets, so they're instantly available across your desktop and mobile devices.
Adobe Stock built right in.
Spend less time searching and more time designing with more than 60 million high-quality images, graphics, videos, 3D objects and our Premium collection inside your apps. With built-in templates for web, print, mobile and more, you can dive right into your designs.
What's New in InDesign CC (2017):
New footnote capabilities
Now footnotes can span multiple text columns in a specific frame or across entire documents.
OpenType enhancements
Just click to see OpenType font properties of any selected text or text box, and then quickly apply properties to characters, words, or a whole story.
Arrowhead scale control
Scale start and end arrowheads independently of line stroke weight, and switch them with a single click.
Easier Adobe Stock search
Quickly find Adobe Stock assets by typing directly into the InDesign search field. Drag and drop search results from your Library panel right into your canvas and start using them right away. Plus, you can right-click on a stock image to do a visual search for similar images.
New Creative Cloud Libraries capabilities
Send Link has been updated so you can share read-only access to a public library. When you follow a library, it appears in your Library panel and updates automatically.
Creative Cloud Assets improvements
Archive and restore all your assets stored in Creative Cloud, including the ones in your Creative Cloud Libraries, assets created with CC desktop products, and mobile projects.
Introducing Typekit Marketplace
Now you can buy fonts from some of the industry's biggest names and use them in your InDesign projects. Typekit uses its font sync and web technologies to deliver your Marketplace fonts anywhere you need them.
Animate CC integration
Access Animate CC animations directly from your Creative Cloud Libraries, then incorporate them into EPUBs as well as documents you publish to Publish Online (Preview) formats.
And so much more
Also includes: Better hyperlink performance, bug fixes, and more.
What's New in InDesign CC (2017.1):
Modern user experience
A flat and streamlined interface makes it easier to focus on your project. The tools and panels have updated icons that match those in Photoshop and Illustrator, making your workflow more intuitive. Customize your interface to one of four UI themes: Dark, medium-dark, medium-light, and light.
Start projects faster
Jump-start print, web, and mobile projects with easy access to presets and free Adobe Stock templates. Access them within InDesign right from the File > New menu.
Stability Enhancements
We've fixed the top customer issues to enhance productivity and improve stability.
System Requirements:
- Multicore Intel processor
- macOS 10.10, 10.11, or 10.12
- 2 GB of RAM (8 GB recommended)
- 2.5 GB of available hard-disk space for installation; additional free space required during installation (cannot install on a volume that uses a case-sensitive file - system or on removable flash storage devices)
1024 x 768 display (1280 x 800 recommended) with 32-bit video card; supports Retina display
- Optional: To use GPU Performance, your Mac should have a minimum of 1024 MB of VRAM (2 GB recommended), and your computer must support OpenGL version 4.0 or greater.
Home Page
-
http://adobe.com