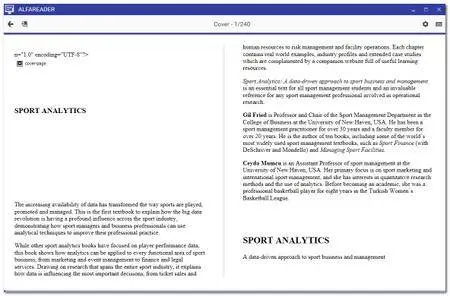 AlfaReader 3.7.2.1 | 17.1 Mb
AlfaReader allows to read PDF, EPUB, MOBI, FB2, CBZ, DJVU and TXT books and magazines. You can select between the multiple e-reading templates and zoom pages and font size. The program automatically saves bookmark, window size and reading template for every book. You can easily browse ebook by the table of contests and use mouse or hot-keys to turn pages.
Listen to audio-books
AlfaReader provides easy-to-use and functional audio-player for listening audio-books. It supports most popular audiobook formats MB4 and MP3. It allows to play either single-file books or multiple-file books. Thanks to the sort options you can put the files to the right order. The players automatically remembers the place where you finished listening and next time starts playing from the bookmarked place.
When you add a new book to AlfaReader, it appears on the virtual bookshelf, that can help you to organize your little library. If you want to manage the bigger ebook library, you can install our book management software Alfa eBooks Manager. It integrates with AlfaReader and provides sophisticated set of tools.
Download books from OPDS catalogs
OPDS (Open Publication Distribution System) format is a syndication format for electronic publications based on Atom and HTTP. Public OPDS Catalogs enable discovery and acquisition of electronic books. There are hundreds of OPDS catalogs on the Web. AlfaReader contains built-in OPDS client that allows easily add books from public OPDS Catalogs to your library and download electronic books.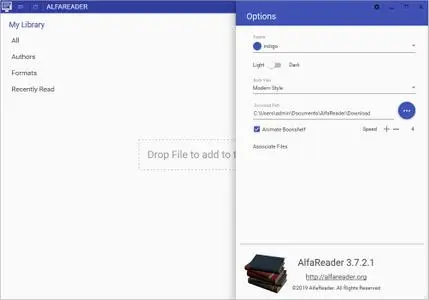 System requirements:
AlfaReader works on Windows 7/8/10 and requires .Net Framework 4.5 installed.
Home Page
-
https://www.alfareader.org/