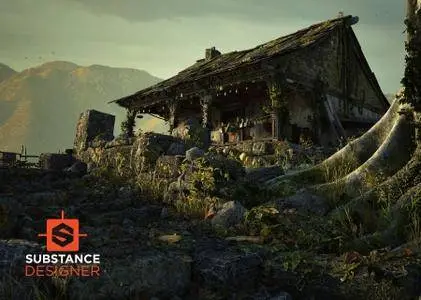 Allegorithmic Substance Designer 2017.2.0(1) | 919.2 mb
Updated: added Allegorithmic Substance Designer 2017.2.1-590
Allegorithmic has released Substance Designer 2017.2.0(1), is the Ultimate 3D Material Authoring and Scan Processing Tool. It has become the standard in the entertainment industry for PBR material authoring.
2017.2.1

Fixed:
[Engine] Crash when rendering text with GPU engine
[Content] Tile Sampler: Row/Column ID does not work properly with non square
[Content] Tile Sampler Color: Color parametrization is wrong
[Content] Tile Sampler: wrong default value for X / Y pattern amount
[Export] Exported PSD are missing metadata

2017.2.0

Added:
[Content] Add Floodfill and associated filters (convert a black and white mask to gradients, random colors..etc)
[Content] Add new Noises, Grunge Maps and Pattern generators that support non square format (old version are marked as "Legacy")
[Content] Added new Splatter Circular with a lot more features
[Content] Add new Scratches Generator
[Content] Add Swirl filter
[Content] Add Histogram Select
[Content] Add Star pattern
[Content] Add Shape Mapper filter
[Content] Add Vector Morph filter
[Content] Add Gradient Linear 3
[Content] Tile Random / Tile Generator: add symmetry mode (h+v, h, v)
[Content] Tile Generator: Add multiple image input
[Content] Rename "RGB-A Merge" to "Alpha Merge"
[2D View] switch node output display using the C key
[2D View] Optimize Histogram / info layout depending on their display ratio
[2D View] Add a button to enable/disable the tiling display
[3DView] Optimize computation speed of Spherical harmonics
[3D View] Update PBR shaders to use Fibonacci sampling instead of Hammersley
[3D View] Add an option to save the current scene state as default
[3D View][Bakers] Serialize Data in human readable format
[Bakers] Add presets export/import (json)
[Publish] Create the sbsar archive as non solid
[Publish] Store the graph image/thumbnail into the sbsar
[Publish] Display a progress bar when a package is being published
[Dependencies] Display the .sbs file requesting a dependency in the "Missing dependency window"
[Dependencies] Report window: display green icon when the problem has been resolved
[Dependencies] Add an option to open the package custom dependencies in the package explorer
[Preferences] Add an option to set the default scene state in the project settings
[Preferences] Add an option to enable/disable path for the library
[Graph] Add an option to make a screenshot (at 1:1 scale) of the graph
[Graph] Remove tooltip from the background of compositing graphs
[Scripting] Add onBeforeFileLoaded and onAfterFileLoaded callbacks
[Engine] Add a Base Parameter to adjust Pixel Ratio mode
[Console] Improve Console performances
[Parameters] New Position (XY) widget
[Iray] Upgrade to IRay SDK 2017.1
[PSD] Save PSD widget state as text instead of binary
[Library] Use thumbs from sbsar if it exists
[Explorer] Rename "Dependencies.." entry to "Dependency Manager"
AXF files Import
Fixed:
[MDL] Fail to export MDL Module if texture is connected to an exposed parameter
[MDL] Try to register dependency for MDL string variables (constant node)
[MDL] crash after closing the package
[MDL] crash when connecting a float 3 to a color node
[MDL] can't open nodes library when releasing a link node in a frame
[MDL] crash when using a file texture
[MDL] Dependency behaviour register too many operands
[Graph] Connector names are disabled after FX-Map editing
[Graph] crash when undo
[Graph] Strange behavior with links between nodes
[Graph] Collapsed nodes scatter and detach when undo
[Graph] Function instance are not updated when reference is changed
[Version Control] Package is reloaded when a Version Control custom action is triggered
[Version Control] Disabled version control workspaces are still available in the context menu of a package
[Version control] Remove custom action don't remove it from the contextual menu of a package
[Properties] Parameter preview is not updated when using the gizmo
[Iray] Max time display problem
[Iray] Pause option issue
[Bakers] crash when baking convert UV to SVG using Korean/Japaneses translation
[Bakers] changing the path after a first baking doesn't work
[PSD Exporter] undo issue
[PSD] folder and layers are locked in Photoshop CS5
[UI] color cursor is always set to white when uniform color node is created
[UI] Opening an existing tab should display it instead of duplicating it.
[Presets] crash when changing parameter type used in a preset
[3D View] samplers with same usage are merged
[2D View] Pixel information does not work for images whose resolution is not a power of 2
[Library] issue when renaming filters
[Data] Fix various typo in SBS files
[Parameters] level node - auto level precision issue
[Preferences] Templates Directories buttons should be disabled for "Default Project"
About Allegorithmic Substance Designer.
Substance Designer is the ultimate node-based 3D material authoring and scan processing tool. It has become the standard in the entertainment industry for PBR (Physically Based Rendering) material authoring.
- Material Authoring.
Create materials with full control and an infinity of variations. Edit complete texture sets instantly and produce Substance textures and MDL (Material Definition Language) materials that will be directly handled in your renderer (V-Ray, Iray and Adobe Felix) or game engine. Produce tileable textures up to 8K size with 32 bits floating. Create Substance files (.sbsar) tweakable in-context.
- Scan Processing.
Process scans thanks to filters and tools in an adapted to photogrammetry workflow. Substance Designer features a complete new set of tools and filters including: Crop Tool, Color Equalizer Tool, Extract Channels filters (Multi-angle to Albedo, Multi-angle to Normal, Normal to Height), Smart Patch Clone Tool, Smart Auto Tile Tool. Use the Substance material or export the textures to any renderer, game engine, DCC tool or portfolio site.
- Import a Wide Variety of Content.
Import procedural sbs and sbsar files, hand-painted images, photographs, scans and geometry (FBX & OBJ). No need to worry about tiling, either – Substance Designer handles it automatically.
- Node-Based Non-Destructive Workflow.
Substance Designer features 4 graphs types: Tiling textures, MDL materials, Math Functions and Noise Editor. Edit complete texture sets instantly with the procedural node-based non-linear workflow. Want to change something while you are working? Make changes to any previous step while keeping your current work intact.
- Integrated Full-Featured Bakers.
Bake quickly and easily with a complete set of bakers. Create non-uniform (non-square) bakes up to 8K resolution with Substance Designer. The bakers include: AO, normal, ID, height, curvature, position, polypaint, Bent Normals, Color Map, UV to SVG, Opacity Mask, Thickness, Transfered Texture, World Space Direction, World Space Normals.
About Allegorithmic.
Founded in 2003 and based in Clermont-Ferrand, France, Allegorithmic is the leader in 3D texturing technologies with more than 50,000 users and clients including Microsoft, Sony, Activision, Electronic Arts, Ubisoft, NCSoft, Tencent, Autodesk, NVIDIA and Intel. The company specializes in creating advanced authoring software and middleware that is designed to simplify the process of creating and distributing high-quality textures for next-generation content developers. The company's flagship product range is Substance.
Product:
Allegorithmic Substance Designer
Version:
2017.2.0-585 (2017.2.1-590)
Supported Architectures:
x64
Website Home Page :
www.allegorithmic.com
Language:
english
System Requirements:
PC
Supported Operating Systems:
Windows 7even and newer
Size:
919.2 mb
Please visit my blog
Added by 3% of the overall size of the archive of information for the restoration

No mirrors please