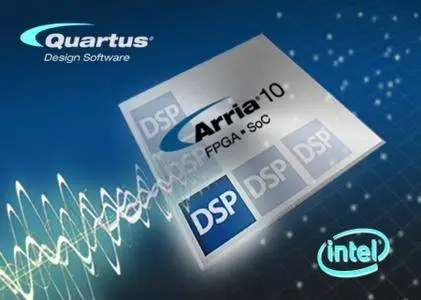 Altera Quartus Prime 16.1 | 56.2 Gb
Altera, now part of Intel, announced the production release of the new Quartus Prime 16.1 design software, which further accelerates FPGA design performance and design team productivity.
The new revolutionary Quartus Prime design software includes everything you need to design for Intel FPGAs, SoCs, and CPLDs (formerly Altera) from design entry and synthesis to optimization, verification, and simulation. Dramatically increased capabilities on devices with multi-million logic elements, are providing designers with the ideal platform to meet next-generation design opportunities. For designers to effectively take advantage of these devices, software must dramatically increase design productivity. The new Quartus Prime software, built on the successful Quartus II software, is breaking barriers of FPGA design productivity with an additional Spectra-Q engine that is optimized for Arria 10 and future devices.
The Spectra-Q engine enables new levels of design productivity for next-generation programmable devices with a set of faster and more scalable algorithms, a hierarchical database infrastructure, and a unified compiler technology. Visit the Spectra-Q page to learn more about how the Spectra-Q engine enables the development of new tools and design flows.
What's New in 16.1:
Intel Quartus Prime design software, powered by the Spectra-Q engine, is primed to improve your productivity as you target our next generation devices with multi-million logic elements. Built on the success of Quartus II software, Quartus Prime software with the Spectra-Q engine consists of a new set of faster and more scalable algorithms, a new hierarchical database infrastructure and a new unified compiler technology.
Intel Quartus Prime software is available in three editions based on your design requirements: Pro, Standard, and Lite Edition.
- Quartus Prime Pro Editon
–The Quartus Prime Pro Edition is optimized to support the advanced features in Intel's next-generation FPGAs and SoCs, starting with the Arria 10 device family.
- Quartus Prime Standard Edition
–The Quartus Prime Standard Edition includes the most extensive support for Intel's latest device families and requires a subscription license.
- Quartus Prime Lite Edition
–The Quartus Prime Lite Edition provides an ideal entry point to Intel's high-volume device families and is available as a free download with no license file required
More info:
HERE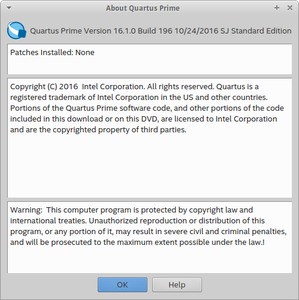 About Altera Corporation
Altera Corporation is at the forefront of technology innovation, providing customers programmable solutions for leading-edge electronic systems that are shaping our modern world. Headquartered in Silicon Valley, California, Altera has been supplying the industry with access to the latest programmable logic, process technologies, IP cores and development tools for more than 30 years. Altera was founded in 1983 and employs more than 3,000 people in over 20 countries.
Product:
Altera Quartus Prime (Pro)
Version:
16.1.0.196
Supported Architectures:
32bit / 64bit
Website Home Page :
www.altera.com
Language:
english
System Requirements:
PC / Linux
Supported Operating Systems:
Windows 7even / 8.x / 10 / Server 2008 R2 SP1 Enterprise | Red Hat Enterprise Linux 5.10, 6.5, 7.2
Size:
56.2 Gb

visit my blog
All parts interchanged. Added by 3% of the overall size of the archive of information for the restoration and the volume for the restoration

No mirrors please