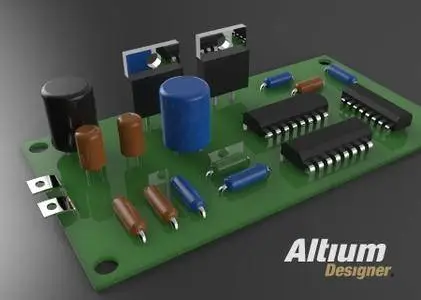 Altium Designer 17.0.8 | 2.7 Gb
After experiencing record user growth in the past year, Altium has launched the latest version of their leading PCB design software with Altium Designer 17. This release further embodies Altium's commitment to passionate design by significantly reducing the time spent on non-design related tasks. Designers can leverage several advanced new technologies to center their focus on actual design rather than the mundane tasks that often plague the design process.
Electronics design attracts engineers with a deeply ingrained passion for the creative process, yet most of their time is spent outside that realm. Altium Designer 17 allows engineers to indulge their passion by shifting their focus back to creating designs, as evident with ActiveRoute, the latest breakthrough in routing technology. ActiveRoute enables designers to interactively guide their routes across the entire board in minutes, allowing them more time to perfect their designs and come up with creative solutions to issues that arise during development. Coupled with the automated documentation technology in Draftsman, designers have the opportunity to bring innovation to the forefront by accurately communicating design intent the first time. With Altium Designer 17, engineers are no longer bound by a burdensome process that pulls them away from designs and are free to explore their creativity and produce more inspired designs.
To explore all the new features included in this release, visit the
HERE
Version 17.0.8

Build: 518 Date: 28 December 2016
12177 Fixed a bug that caused a graphic symbol to be shown incorrectly in the drill table.
13934 Fixed a bug where the Windows UAC asks for admin credentials on every start of Altium Designer Dev Elevator.exe.
15198 Fixed a bug that caused a graphical glitch with the drop down menu.
15307 Fixed a bug where a Supplier search in AD 17.0 does not return units for a part's parameters (BC:7280).
15377 Fixed a bug where Embedded SVG of components are moving during navigation and have low-resolution graphics in outputs (BC:7324).
15383 Fixed a regression bug that caused AV to appear after generating a BOM via PDF Container with Russian template from GOST 2.701-2008/2.106-1996 extension.
15386 Fixed a regression bug that broke exporting a PCB to a Netlist.
15415 Fixed An issue causing slowness in Cross Select mode when the PCB List view is shown.
15416 Improved Cross select mode with new preferences to control which object types are included in cross selections.
15421 Fixed an issue with the cross probe tool, cross select mode no longer interferes with selections made.
15460 Fixed a bug that prevented a PCB file from being saved after running nested commands (BC:7407).
15534 Fixed a regression bug that caused the current layer to be changed when a component is flipped.
15561 Added SWPcbDoc to the list of importable Altium PCB files.
15564 Fixed a bug where hatched Polygon Pour with surrounding pads with arcs are approximated with tracks (BC:7266).
15666 Fixed a bug where a decimal Watts value couldn't be filled in CMPLib if a "comma" was selected as the default decimal indicator.
15687 Fixed a regression bug that didn't allow a network path to be used as a project folder location.
15761 Fixed a bug where the .VersionControl_RevNumber special string was not converted on a PCB if the "VCS Provider - SVN" extension was installed (BC:7293).
15788 Fixed a bug that changed the name of the configuration. If a backslash was used in the configuration name it was changed to an underscore. This name change then makes the configuration backward incompatible with previous versions (16.1 and earlier).
15594 Fixed a bug that caused a delay while switching between open SCH and PCB documents (BC:7380).
About Altium Ltd.
Altium Limited is an Australian multinational software corporation that focuses on 3D PCB design, electronics design and embedded system development software.
Altium Designer, a unified electronics design environment links all aspects of smart systems design in a single application that is priced as affordable as possible. With this unique range of technologies Altium enables electronics designers to innovate, harness the latest devices and technologies, manage their projects across broad design 'ecosystems', and create connected, intelligent products.
Product:
Altium Designer
Version:
17.0.8 Build 518
Supported Architectures:
32bit / 64bit
Website Home Page :
www.altium.com
Language:
english
System Requirements:
PC
Supported Operating Systems:
Windows 7even / 8.x
Size:
2.7 Gb

visit my blog
All parts interchanged. Added by 3% of the overall size of the archive of information for the restoration and the volume for the restoration

No mirrors please