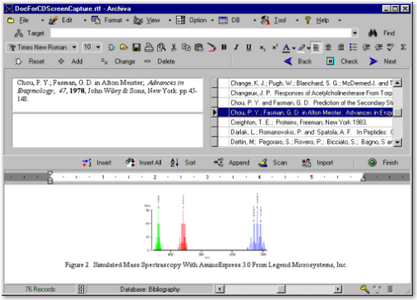 AngelSystems.net Archiva v7.02.8.008 | 7 MB
World's most powerful reference collection software with integrated thesis processing. Not just plain text anymore. Archiva can save almost anything: Scientific Symbols, Pictures, Simple Tables, Spreadsheets. And so much more …
No more switch between two applications. Archive reference management system provides integrated thesis processing with Microsoft Word(R).
Existing documents can be migrated into Archiva format through manual, semi-automatic and automatic multi-level importing functions. Complex labels such as [3, 5-7, 10] can be directly scanned in followed by score matching reference import.
No more dissecting references into tedious fields. Archiva creative entry protocol makes manual typing completely unnecessary. Just drag and drop, then one click away. Advanced pattern recognition extracts information when needed.
Archiva documents can be send to other users around the world. Archiva documents can be directly read by Microsoft Word.
Super fast search engine. Multiple keywords and partial keyword matching are supported.
Support of drag-drop.
Support of OLE automation. Microsoft Word, Excel, Corel Draw etc can run inside Archiva.
Database management function support. Complicate database management is just as simple as file management with Windows Explorer.
Public or Secured run mode with user level privilege.
Homepage:
http://angelsystems.net/