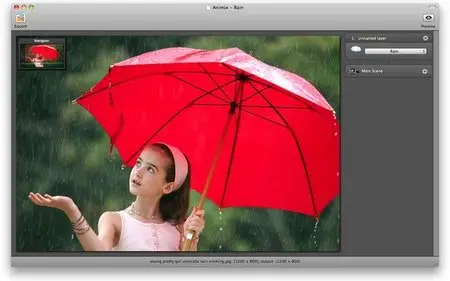 Animix 1.4 | Mac Os X | 4 MB
Animix app is an unique way to breathe the life into your photos. You can add weather effects, animate water surfaces, put a sun lens flare and set up the camera movement. The app is that simple that even a kid can use it to produce some creative works! Animix contains free screensaver module that supports app's scene playback, so you can distribute the results as a run-time screesavers or export them into the QuickTime movie.
Effects
Rain, Snow, sun Lens Flares, Smoke and Haze, Water surfaces – the app contains a set of stackable pre-built effects to be used to animate your photos. It's really simple.
Masking
You can set up an effect area in details with the masking tool. This precise instrument allows to animate exactly what you need and in the way you need it.
Exporting
Free screen saver module is included in the app package and can be installed by request. It's also freeware and allowed to be redistributed separate from the app, so you can share your screesavers with ease.
Requirements
Intel
Mac OS X 10.6 or later
Hardware video processing is required for the ScreenSaver module.
Version 1.4
'Wave Motion' filter added.
Bugfix: Camera frame fixed for render to frame (QuickTime).
Minor bugfixes.