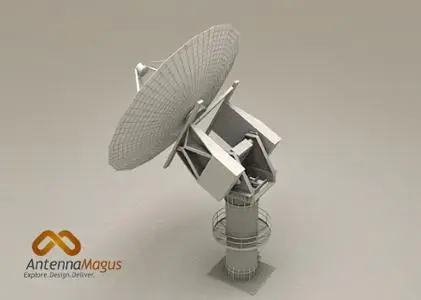 Antenna Magus Professional 2020.2 version 10.2.0 | 1.6 Gb
Magus (Pty) Ltd. and CST – Computer Simulation Technology AG (CST) announce the release of Antenna Magus 2020.2, the latest version of the leading antenna design tool.
Antenna Magus Professional 2020.2 Release NotesNew Devices
- Dual-Feed Corrugated Shell Horn [MAGUS-28509]
- Parabolic Reflector with Cup-Shaped Splash Plate [MAGUS-28303]
- Dual Polarized Cross Bow-Tie Antenna [MAGUS-28339]
- Logarithmic Slot Spiral [MAGUS-28510]
- Monopulse Potter Horn [MAGUS-8227]
- Ring-based Slotted Waveguide Array [MAGUS-28503]
New Features, Extensions and Improvements
- Array translation operator now allows negative distances. [MAGUS-28615]
- The source and trace selection's styling in the Compare Window has been improved. [MAGUS-27517]
- Error messages for trace imports have been improved. [MAGUS-27810]
- The Estimate Performance icon will now indicate whether NFS has been activated and whether NFS export is available for the selected device. [MAGUS-28275]
- The color indicator for designs will now appear non-solid before estimation and solid after a completed estimation. [AMB-1353]
- The available rotations for imported patterns in the array tool have been expanded. [MAGUS-28185]
Bug Fixes
- Slider colours on substrates now correctly switch between blue and green to indicate whether it matches the underlying Specification. [AMB-1211]
- A crash when opening the Compare Window has been fixed. [AMB-3064]
- Warning messages on substrate objectives appeared incorrectly when using a Specification. This has been fixed. [AMB-1306]
- Adding a Tweak from the Ribbon wasn't always possible. This has been fixed. [AMB-3029]
- A crash when going to an array collection item has been fixed. [AMB-3059]
- The Bounding box state is now correctly handled when sending additional designs to a compare set. [AMB-2898]
- Units for specification of sidelobe levels have been fixed. [AMB-1280]
- Creating Tweaks from snapshots from the palette has been fixed. [AMB-3041]
- Drop-down lists in Array calculator now display the correct name for enumerated objectives. [AMB-1801]
- Warnings messages about parameters/objectives in the Array Tool have been improved. [AMB-1112]
- Some Ludwig charts failed to load. This has been fixed. [AMB-3069]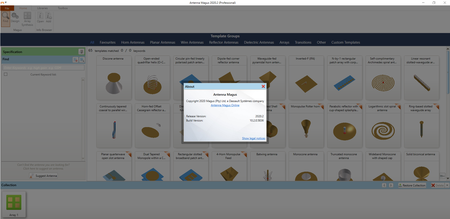 Antenna Magus
is a software tool to help accelerate the antenna design and modelling process. It increases efficiency by helping the engineer to make a more informed choice of antenna element, providing a good starting design. Validated antenna models can be exported to CST MICROWAVE STUDIO from a huge antenna database which means that the engineer can get to the customisation phase of an antenna design quickly and reliably.
Antenna Magus has proven to be an invaluable aid to antenna design engineers and anyone who requires antenna models for antenna placement and/or electromagnetic interference studies.
MAGUS (Pty) Ltd.
develops antenna design and information management software. Antennas designed using its software can be used in a wide variety of applications at various frequency bands, including, but not limited to, telecommunications, mobile devices, aerospace, satellite, automotive, radio astronomy and defense.
CST- Computer Simulation Technology AG
founded in 1992, is a market leader in delivering 3D electromagnetic (EM) field simulation tools through a global network of sales and support staff and representatives. CST develops CST STUDIO SUITE, a package of highperformance software for the simulation of EM fields in all frequency bands. Its growing success is based on a combination of leading edge technology, a user-friendly interface and knowledgeable support staff. CST solutions are used by market leaders in a diverse range of industries, including aerospace, automotive, defense, electronics, healthcare and telecommunications. On September 30 2016 CST joined the SIMULIA brand of Dassault Systemes
Product:
Antenna Magus
Version:
2020.2 version 10.2.0 Professional
Supported Architectures:
x64
Website Home Page :
www.antennamagus.com
Language:
english
System Requirements:
PC *
Supported Operating Systems:
*
Software Prerequisites:
CST Studio Suite 2020 and above
Size:
1.6 Gb
Antenna Magus is built for: 64-bit systems running Windows VISTA Business, Windows 7 supporting Service pack 1, Windows 8, Windows 8.1, Windows 10 or Windows Server 2008/2012.
CST Studio Suite 2020 SP1
Please visit my blog
Added by 3% of the overall size of the archive of information for the restoration

No mirrors please