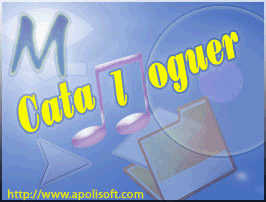 Apolisoft MCataloguer 2.9.5.0 | 2.87 mb
A Unicode based, multilingual and multi-level categories supported, multipurpose cataloging program, requires no typing. Music cd cataloging supports album web search. Multi-thread super-fast search engine make your life easier by finding out the records in a few seconds.
Creates or extracts thumbnails for image or digi-photo raw files, saves in ajustable size from 64x64 to 128x128 pixel.
Supports following image formats:.ai, .bmp, .cur, .dib, .emf, .gif, .ico, .jpg, .jng, .mng, .pgm, .pnm, .ppm, .png, .pcd, .psd, .pcx, .ras, .tif, .tiff, .tga, .wbmp, .wmf, .pdf.
And these raw formats:.bay, .bmq, .cam, .cr2, .crw, .cs1, .dc2, .dcr, .dng, .icc, .k25, .kdc, .mos, .mrw, .nef, .orf, .pef, .raf, .raw, .srf, .thm and .x3f.
Also saves Image properties and EXIF information like Dimensions, Taken Date, F Number, Comment and so on.
Music CDs Management
Reads ISRC, Catalog Nbr, CD-TEXT directly from disc.
Connects to internet music servers for album information including track titles, cover art, lyrics and so on. Supports text search by artist, album or track title.
Customized various sort orders can be applied on albums diaplay.
Apolisoft.MCataloguer.v2.9.5.0.Incl.Keymaker-ZWT