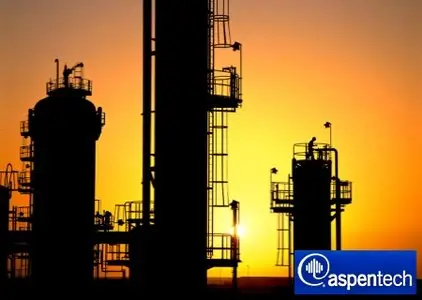 AspenTech AspenONE 7.3 DVD3 Documentation | 636.1 mb
Drawing from AspenTech's 25 years of technology leadership and innovation, aspenONE 7.3 not only drives higher profitability, but provides customers the tools and integrated workflows to better meet their goals for operational excellence.
About Aspen Technology, Inc.
Founded in 1988, Aspen Sales & Technologies, LLC. has established itself as a distributor of a broad range of industrial products to companies in the Oil & Gas, Refining, Petro-chemicals, Utilities, Power, Pulp and Paper, Automotive, Manufacturing and Mining among others. This success has resulted in large part from our commitment to providing immediate and competitive pricing from our well established relationships with leading manufacturers.
Aspen Sales & Technologies, LLC. aims to provide innovative solutions to meet each customer's unique material procurement and inventory management requirements through the effective use of knowledgeable, responsive personnel and the development of strategic alliances and sourcing arrangements.
What is aspenONE
aspenONE is the market-leading application suite that enables process manufacturers to implement best practices for optimizing engineering, manufacturing, and supply chain operations. Unlike point solutions that only address specific process areas, aspenONE addresses inefficiencies end-to-end throughout the plant, resulting in significant cost savings and increased customer satisfaction.
Designed to meet the distinctive demands of each vertical industry, aspenONE integrated applications address the business processes that have the greatest impact on operational performance. aspenONE continues to deliver measurable results in these key process industries: Exploration & Production, Refining & Marketing, Chemicals (Bulk & Olefins), Polymers, Specialty Chemicals, Pharmaceuticals.
Press Release AspenONE 7.3:
http://aspentech.com/
by suits: aspenONE Infrastructure, Aspen Chemical Supply Chain, Aspen Engineering, Aspen Manufacturing, Aspen Petroleum Supply and Distribution, Aspen Petroleum Supply Chain

by products:

- Aspen Adsorption
- Aspen Air Cooled Exchanger
- Aspen Audit and Compliance Manager
- Aspen Basic Engineering
- Aspen Batch Distillation
- Aspen Batch Process Developer
- Aspen Blend Controller Interface
- Aspen Calc
- Aspen Capital Cost Estimator
- Aspen Chromatography
- Aspen Cim-IO
- Aspen Cim-IO Interfaces
- Aspen Collaborative Forecasting
- Aspen Common Model Environment
- Aspen Configured Applications
- Aspen Custom Modeler
- Aspen Data Source Architecture
- Aspen Demand Manager
- Aspen Distribution Scheduler
- Aspen DMCplus (with SmartStep technology)
- Aspen Energy Analyzer
- Aspen Engineering Documentation
- Aspen Event Manager
- Aspen Event.21
- Aspen Exchanger Design and Rating
- Aspen Fired Heater
- Aspen Flare System Analyzer
- Aspen Fleet Optimizer
- Aspen Framework Server
- Aspen Fuel Gas Optimizer
- Aspen HYSYS
- Aspen HYSYS Extensions
- Aspen HYSYS Pipeline Hydraulics
- Aspen HYSYS Refining
- Aspen HYSYS Thermodynamics COM Interface
- Aspen HYSYS Upstream
- Aspen IMOS
- Aspen Inferential Qualities
- Aspen InfoPlus.21
- Aspen In-Plant Cost Estimator
- Aspen Inventory Planner
- Aspen IP.21 Process Browser
- Aspen KPI Builder
- Aspen Local Security
- Aspen Manufacturing Master Data Manager
- Aspen Matrix Analysis
- Aspen Matrix Comparison
- Aspen Model Runner
- Aspen MUSE
- Aspen Nonlinear Controller
- Aspen Olefins Scheduler
- Aspen OnLine
- Aspen Online Deployment
- Aspen OOMF
- Aspen Operations Reconciliation and Accounting
- Aspen Petroleum Scheduler
- Aspen Petroleum Supply Chain
- Aspen Petroleum Supply Chain Planner
- Aspen PIMS
- Aspen Plant Scheduler
- Aspen Plate Exchanger
- Aspen Plate Fin Exchanger
- Aspen Plus
- Aspen Plus CatCracker
- Aspen Plus Dynamics
- Aspen Plus Hydrocracker
- Aspen Plus Hydrotreater
- Aspen Plus Reformer
- Aspen Polymers
- Aspen Process Controller
- Aspen Process Data Add-In
- Aspen Process Economic Analyzer
- Aspen Process Engineering Console
- Aspen Process Explorer
- Aspen Process Manual
- Aspen Process Recipe Manager and Aspen Process Sequencer
- Aspen Process Statistical Analyzer
- Aspen Process Tools
- Aspen Production Control Web Server
- Aspen Production Execution Manager
- Aspen Production Record Manager
- Aspen Properties
- Aspen Reaction Modeler
- Aspen Real-Time SPC Analyzer
- Aspen Refinery Multi-Blend Optimizer
- Aspen Remote Simulation Service
- Aspen Report Writer
- Aspen Reporting Framework
- Aspen Role-Based Visualization
- Aspen RTO Watch Performance Monitor
- Aspen Scheduling Insight Planning Board
- Aspen SCM
- Aspen Shell and Tube Exchanger
- Aspen Shell and Tube Mechanical
- Aspen Simulation Workbook
- Aspen Solubility Modeler
- Aspen Solution Browser
- Aspen SQLplus
- Aspen Supply Chain Analytics
- Aspen Supply Chain Connect
- Aspen Supply Chain Planner
- Aspen Tank and Operations Manager
- Aspen Utilities Planner
- Aspen Watch Performance Monitor
- aspenONE Infrastructure Overview
- aspenONE Integration Foundation
- Software License Manager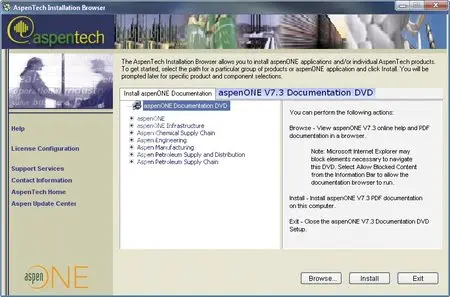 visit my blog
Name:
AspenTech AspenONE
Version:
7.3 DVD3 Documentation
Creator:
http://aspentech.com/
Interface:
english
OS:
Windows XP / Vista / Seven
Size:
636.1 mb
AspenTech AspenONE 7.3 DVD1
All parts on wupload.com, depositfiles.com, fileserve.com, filesonic.com interchanged. It is added by 5% of the overall size of the archive of information for the restoration

No mirrors please