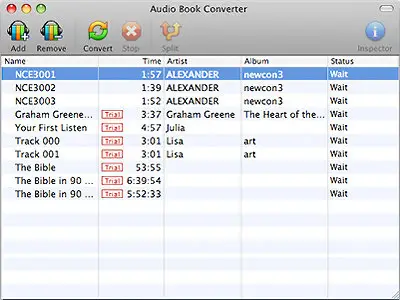 AudioBook Converter 1.5.3 | Mac Os X | 4 MB
Macsome Audiobook Converter is a powerful converter to convert any audio books which could be played on iTunes. The conversion is 5X speed fast, and output could be CD Quality. It's also a .aa converter, audio book to MP3 converter. It converts any Audio Book from iTunes on MAC OS X to MP3 or AAC files. Converts Audible AA to MP3 or AAC files. Batch converts DRM protected or unprotected audio books to unprotected MP3 or AAC files with ID tags preserved. Macsome AudioBookConverter works with iTunes and sound recording technology to convert audio books. So it keeps the users on the legal side.
Powerful Features of audiobook Converter
Chapters intact after conversion
If you choose M4A as output format, you can select to keep chapters of your source audiobook.
Very Fast Converting Speed
The recording speed is 5X fast than playback speed. And the output file will be encoded while recording.
Convert purchased AA to MP3 to Play anywhere
In audiobook Converter, you can easily select AA files from iTunes audiobook library. Then convert them into MP3 or AAC in 5X speed to play anywhere.
Convert Any Audio Book Could Play on iTunes
No matter what format the audio book is, if it could be played on iTunes, Macsome AudiobookConverter will convert it to MP3 or AAC format for you.
Remove DRM protection
Converting any audio book into MP3 or AAC format, the DRM protections on audio book will be removed. So, it's also an .aa converter, purchased aduio book converter, or audio book DRM remover.
Keep ID Tags
The ID Tags will be preserved in output MP3 or AAC files while converting. When you split a big audio book file to several small files, the ID Tags will be preserved, too.
Could be CD Quality
There are several preset output formats. And you could customize the output format.
Batch Conversion Supported
You may select several audio book files to convert. Then click "Convert" button to start converting. What you need to do is just wait for the result of conversion.
Silent Recording
The recording procedure is silent.
Very Fast Big File Splitter Inside
There is a audio book file splitting function inside AudiobookConverter. If you need to have serveral small files instead of a big one, the Split funciton will help you.
No Extra Hardware or Vitual Drive Needed
Macsome AudiobookConverter won't install any virtual drive, and needn't any extra hardware. You just install it on your Mac, then start your conversion.
No Limitation of Converting Times
Audio book you purchased can only burn to Disc once on each authorized Mac, but no limitation of play it on your iTunes. So, if you want, you could convert them as many times as you want with Macsome Audio Book Converter.
Requirements
PPC / Intel
Mac OS X 10.3.9 or later.
iTunes 7 or later.
Version 1.5.3:
Support for Mac OS X 10.7.