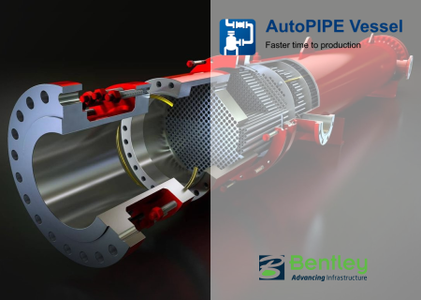 AutoPIPE Vessel CONNECT Edition V42 Update 3 | 1.0 Gb
Languages Supported: Deutsch, Français, Русский, English, Hrvatski,
Português, Español, Polski, 中文 (Simplified) *
The Bentley development team is pleased to announce the availability of AutoPIPE Vessel CONNECT Edition V42 Update 3 (42.03.00.10). This software enables fully automatic workflows, including complete global codes and applied loadings for pressure vessels, heat exchangers, tanks, and air coolers to deliver greater productivity, safer designs, cost-effective manufacturing, and improved project collaboration.
Enhancements

Codes/Standards Update
- European Design Code EN 13445-3:2014+A8:2019
- ASME Standard Flanges B16.5-2017/B16.47-2017
- ASME Standard Pipes B36.10M-2018/B36.19M-2018
User Interface
- The Tube Bundle Layout Cross View has been improved for a better user experience and also includes user input checking (e.g., Clash Detection).
- The Material Database Manager has been updated to include user query and filter features.
Calculation
- Lifting Lugs on a Equipment Head can now be rotated about the vertical axis
Interoperability
- Added support for SolidWorks 2021.

Defects
NOTE: Problems described below represent specific issues with specific test cases. It is difficult to succinctly describe a problem and how it impacted the specific test case. If you have any questions about the issues discussed in this report, please contact technical support.

Calculation
- #1127461: Legs: Tube Profiles under Lateral Torsional Buckling is wrong under Compression
- #1130468: ASME UG 39 - Nozzle Opening on bolted flat cover - Incorrect calculation of bolted flat cover thickness
- #1128087: CODAP: C6.3.2.1 a) diameter ratio is not checked
- #1127688: CODAP 2000 C9.1.6 - Conical Junction (infinite loop, no results)
- #1128484: GB150 - calculated allowable bolt stress issue (non-Chinese materials)
- #1128502: WRC 107/537 - Actual stress due to pressure according to GB 150 not determined
- #1128588: Anchorage (Component Design) - allowable stress of concrete missing
- #1131565: Vertical vessel with cone - crash for specific cone angle values
- #1127920: Jacketed vessel with Packing - Weight issue
- #1128424: Storage Tank - user-defined stiffeners can cause a crash (open tank)
- #1130026: Storage Tank with Conical Roof- 2D Drawing fails when diameter < 3000 mm

Customizable Files

NOTE: 3.0
- Config\Material.emdm (Material Database) (Updated)
- Config\flangeAS.xlsx (Flange Dimensions) (Updated)
- Config\StandardFlangeReferenceTable.xlsx (Flange Material Groups) (Updated)
- Config\dimpip.xlsx (Pipe Dimensions) (Updated)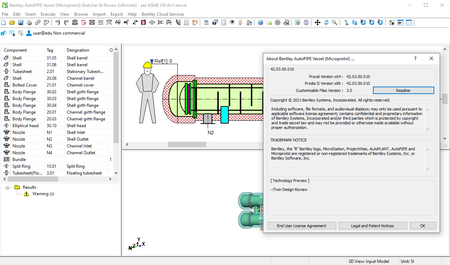 With AutoPIPE Vessel (powered by Microprotol),
manufacturers can quickly evaluate multiple design options to provide comprehensive, high quality solutions for all loading conditions. The program produces drawings to support manufacturing of vessel components in detail with installation and operating conditions, enabling high-quality designs with reduced manual drawing and rework time. Some of the key features are: fatigue analysis, installation and support-in-place design and analysis, pressure testing, automatic drawing production and cost estimation.
Comprehensive, flexible modeling and an easy-to-use interface enables designers to find solutions quickly, improves the efficiency of modeling, and increases profitability. This allows manufacturers to improve productivity and delivery time and enables easier, more accurate design and analysis.AutoPIPE Vessel (powered by Microprotol) imports thermal design data from a multitude of other programs (i.e., HTRI, Aspen, Prosim, and Honeywell) to automate heat exchanger model creation. It shares data with plant design software such as PDS and automatically produces drawings in all major CAD formats (e.g. MicroStation and AutoCAD). Through its superior interoperability, AutoPIPE Vessel (powered by Microprotol) ensures greater efficiency in supply chain and greater alignment with engineering companies. By enabling engineers to collaborate more efficiently, it reduces iterations and errors, enables better quality designs, unifies workflows across a comprehensive set of tools, and improves data handover to operations and maintenance.
AutoPIPE Vessel - Cost Savings Using Design Optimization and Advanced Loadings
AutoPIPE Vessel produces cost-effective and optimized design of pressure vessel components like shells, nozzles, transition cones, flanges, and stiffeners all under pressure and external loadings, including displacement limits. In this webinar, learn how Advanced Wave Motion and Blast Loading allows users to design the vessel to withstand motions load during ocean or ground transportation as well as design for blast loads from a plant explosion.
Bentley Systems, Incorporated.
is the global leader dedicated to providing architects, engineers, constructors, and owner-operators with comprehensive architecture and engineering software solutions for sustaining infrastructure. Founded in 1984, Bentley has nearly 3,000 colleagues in more than 45 countries, $500 million in annual revenues, and, since 2001, has invested more than $1 billion in research, development, and acquisitions.
Product:
AutoPIPE Vessel
Version:
CONNECT Edition V42 Update 3 (42.03.00.10)
Supported Architectures:
x64
Website Home Page :
www.bentley.com
Languages Supported:
multilanguage *
System Requirements:
PC **
Size:
1.0 Gb
*
The base version is in English but the UI and the Report can be switched into other languages due to the use of a dictionary file installed with the program. This language dictionary can be selected under Menu> Preferences.
Please visit my blog
Added by 3% of the overall size of the archive of information for the restoration

No mirrors please