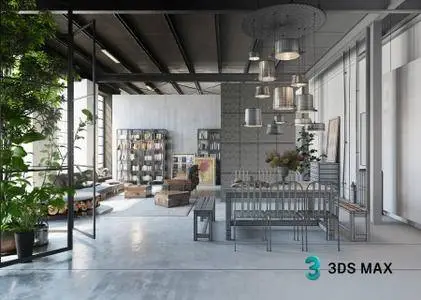 Autodesk 3ds Max Interactive 2019 version 2.1.777.0 | 1.0 Gb
Autodesk is pleased to announce the availability of 3ds Max Interactive 2019, is a real-time engine that gives you tools to create immersive and virtual reality (VR) content.
What's New in 3ds Max Interactive 2019:
- VR editing is now possible with the new Level Viewport VR, letting you use your VR headset to enter and edit your level in virtual reality.
- Smart Placement tool provides you with a new and intuitive way to place objects precisely when working in the Level Viewport or editing your scene in VR.
- Live Transform Tracking mode syncs transform controls between 3ds Max and 3ds Max Interactive.
- Photometric lights from 3ds Max are now imported as Physical Lights in 3ds Max Interactive. Any associated IES files are also imported.
- The new and flexible VR Desktop template can be used with either Oculus or HTC Vive systems.
About 3ds Max Interactive.
3ds Max Interactive helps you produce visually stunning, immersive, and interactive experiences of every kind.
It includes a real-time engine that you'll use to experience your 3D content on multiple platforms – including desktop, mobile devices, game consoles, over the Web, and on virtual reality and augmented reality (VR & AR) devices. With the accompanying set of editing tools, you can build up your scenes and make them come to life with interactive behaviors and visual effects.
By combining the powerful 3D modeling and animation tools of 3ds Max with these new tools for authoring interactive experiences, 3ds Max Interactive aims to give you simple, efficient, and familiar workflows for creating engaging content.
As you get to know the interactive engine and editing tools, you'll occasionally see the name Stingray come up here and there. That's because 3ds Max Interactive is based on Autodesk's Stingray tech, the same tech that our customers are using to power a variety of award-winning games, virtual-reality experiences, architectural visualizations, and more.
With 3ds Max Interactive, you'll get all the power and flexibility of Stingray, plus smoother interop with 3ds Max and Revit Live, and extra features designed specifically for 3ds Max users.
About Autodesk.
Autodesk helps people imagine, design and create a better world. Everyone—from design professionals, engineers and architects to digital artists, students and hobbyists—uses Autodesk software to unlock their creativity and solve important challenges.
Product:
Autodesk 3ds Max Interactive
Version:
2019 version 2.1.777.0
Supported Architectures:
x64
Website Home Page :
www.autodesk.com
Language:
english
System Requirements:
PC
Supported Operating Systems:
Windows 7even or newer
Software Prerequisites:
Autodesk 3ds Max 2018.1 or newer
Size:
1.0 Gb
Note:
3ds Max Interactive uses the same license information as 3ds Max, or your collection/suite containing 3ds Max.
Please visit my blog
Added by 3% of the overall size of the archive of information for the restoration

No mirrors please