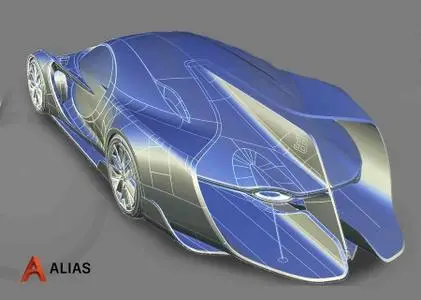 Autodesk Alias AutoStudio 2020.2 Update | 1.3 Gb
Autodesk Inc. has released an update to Alias AutoStudio 2020. This update introduces several new features, fixes, and improvements, and addresses many customer reported crashes and issues.
About Autodesk Alias product family.
Autodesk Alias Design, Autodesk Alias Surface, Autodesk Alias AutoStudio, Autodesk Alias SpeedForm and Autodesk Alias Concept software—support concept visual communication, design modeling, technical surfacing, reverse engineering, real-time design visualization, and engineering development collaboration.
Autodesk Alias products, part of the Autodesk solution for Digital Prototyping, power your creative design process with advanced sketching, modeling, and visualization tools.
Autodesk Alias AutoStudio
is the next generation premium solution for automotive design, styling and technical surfacing.
Alias AutoStudio software provides an extensive set of sketching, modelling, visualisation, and analysis tools for the entire vehicle design process. By providing a continuous workflow from concept generation through Class-A surfacing, the software helps automotive companies produce design iterations quicker, reduce rework and bring innovative vehicles to market faster.
Autodesk
helps people imagine, design and create a better world. Everyone—from design professionals, engineers and architects to digital artists, students and hobbyists—uses Autodesk software to unlock their creativity and solve important challenges.
Product:
Autodesk Alias AutoStudio
Version:
2020.2 Update
Supported Architectures:
x64
Website Home Page :
www.autodesk.com
Language:
english
System Requirements:
PC *
Supported Operating Systems:
*
Software Prerequisites:
Autodesk Alias AutoStudio 2020 end above
Size:
1.3 Gb
Operating system
- Microsoft Windows 10 (64-bit)
- Microsoft Windows 8.1 Professional (64-bit)
- Microsoft Windows 7 SP1 with Update KB3140245 ( 64-bit)
Browser
Autodesk recommends the latest version of the following Web browsers for access to online supplemental content:
- Apple Safari Web browser
- Google Chrome Web browser
- Microsoft Internet Explorer Web browser
- Mozilla Firefox Web browser
CPU: 2 GHz 64-bit Intel or AMD multi-core processor
Graphics hardware:
- Alias General: Supported NVIDIA or AMD graphics card with a minimum of 256 MB dedicated texture memory and DirectX 11 compatible.
- Alias VR: Any NVIDIA or AMD graphics card that is VR Ready certified.
RAM: 8 GB (16 GB recommended)
Disk space:
Free hard disk space required for installation:
- Autodesk Alias AutoStudio: 10 GB
- Autodesk Alias Surface: 5 GB
- Autodesk Alias Design: 5 GB
Pointing device:
- Three-button mouse
- Wacom graphics tablet for sketching (optional)
Optional Hardware: HTC Vive, Oculus Rift, Windows Mixed Reality devices
.NET Framework: .NET Framework Version 4.6 for Windows
Autodesk Alias AutoStudio 2020.1
Please visit my blog
Added by 3% of the overall size of the archive of information for the restoration

No mirrors please