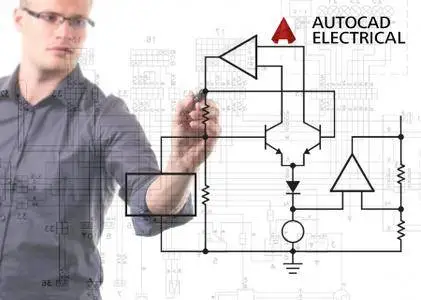 Autodesk AutoCAD Electrical 2018.1 | 5.6 Gb
Autodesk Inc., a world leader in 3D design software for entertainment, natural resources, manufacturing, engineering, construction, and civil infrastructure, announced the release of Autocad Electrical 2018.1, part of the Autodesk solution for Digital Prototyping, is AutoCAD software for controls designers, purpose-built to create and modify electrical control systems.
AutoCAD electrical 2018 design software helps electrical engineers and detailers drive control system design productivity to previously unachievable levels with specialised electrical design functionality and toolsets geared to electrical control system design requirements.
The following is an overview of the changes made to AutoCAD Electrical 2018:
- High Resolution (4K) Monitor Support
Some AutoCAD Electrical User Interfaces are now optimized for high resolution monitors. As a result, the following dialog boxes and palettes scale correctly when you increase the text size in Windows display properties.
. Project Manager Palette
. Symbol Builder Palette
. Terminal Strip Editor
. Set Wire type dialog
- SQL Server Support
The SQL Content Migration Utility now migrates user-defined tables from MDB to SQL Server. Support for Unicode has also been enhanced for catalog data in SQL mode.
- Symbol Library
The default device designation for some symbols in the NFPA library are updated to conform to NFPA 79 2015 edition.
- Panel Layout
Manufacturer and Catalog Number settings in the DIN Rail dialog are enhanced to support long strings.
- Swap Blocks
Causes behind several system crashes related to create/swap/update symbol blocks have been identified and addressed. Performance improvements can be observed when performing project wide block swapping operations.
- Connector
The insert connector workflow has been optimized to hide cross-references, unless specifically requested for.
- Catalog Browser
The Catalog Browser editing workflow is enhanced to support multi-user environments.
- Reports
BOM Reports now support subassembly details from the secondary catalog database.
- Terminals
The panel symbol editing workflow is enhanced to support multiline attributes.
- Wire Sequence
Issues in the Edit Wire Sequence dialog for direct to terminal connection are addressed.
AutoCAD Electrical — это AutoCAD для проектирования электрических систем управления, являющийся важной частью технологии цифровых прототипов Autodesk и позволяющий работать быстро, качественно и со значительно меньшими затратами в знакомой среде проектирования. Специализированные функции и обширные библиотеки условных обозначений позволяют повысить производительность, устранить риск возникновения ошибок и обеспечить точность информации, передаваемой в производство.
Ниже приведен обзор изменений, внесенных в AutoCAD Electrical 2018:
- Поддержка мониторов с высоким разрешением (4K)
Некоторые пользовательские интерфейсы AutoCAD Electrical были оптимизированы для использования с мониторами высокого разрешения. Теперь при увеличении размера текста в разделе свойств отображения Windows следующие диалоговые окна и палитры отображаются в правильном масштабе.
. Палитра "Диспетчер проектов"
. Палитра «Конструктор графических образов»
. Редактор клеммных колодок
. Диалоговое окно «Задать тип провода»
- Поддержка SQL Server
Утилита переноса содержимого SQL теперь выполняет перенос пользовательских таблиц из MDB в SQL Server. Для данных каталога в режиме SQL также расширена поддержка кодировки Unicode.
- Библиотека обозначений
Обозначение устройства по умолчанию для некоторых графических образов в библиотеке NFPA обновлено в соответствии со стандартом NFPA 79, ред. 2015.
- Компоновка монтажной панели
Параметры «Изготовитель» и «Номер по каталогу» в диалоговом окне «DIN-рейка» оптимизированы и теперь поддерживают длинные строки.
- Замена блоков
Выявлены и устранены причины, вызывавшие сбой в системе, связанный с созданием, заменой или обновлением блоков образов. Наблюдается повышение производительности при выполнении операций по замене блока в масштабах всего проекта.
- Соединитель
Рабочий процесс «Вставка соединителя» был оптимизирован и теперь позволяет скрывать перекрестные ссылки, если их отображение не настроено специально.
- Обозреватель каталогов
Рабочий процесс редактирования в Обозревателе каталогов был оптимизирован и теперь поддерживает многопользовательские среды.
- Отчеты
В отчетах по спецификациям теперь поддерживается отображение сведений об узле из вторичной базы данных каталога.
- Клеммы
Рабочий процесс редактирования графического образа монтажной панели был оптимизирован и теперь поддерживает многострочные атрибуты.
- Последовательность проводов
Устранены проблемы в работе диалогового окна «Редактировать последовательность проводов», связанные с непосредственными соединениями с клеммами.
- Произведено объединение четырех оригинальных дистрибутивов в один: английский х64, английский х86, русский х64, русский х86.
- В инсталлер добавлена возможность установки локальной справки как для английской, так и для русской версии программы.
- В инсталлер добавлена возможность установки модуля поддержки VBA-макросов.
- В инсталлер добавлена возможность установки модуля SPDS Extension 6.0 позволяющего оформлять чертежи согласно требованиям ГОСТ 21.1101-2009.
- Так как в AutoCAD Electrical 2018 по умолчанию отсутствовал так называемый "классический интерфейс", добавлена возможность восстановления.
- Так как в AutoCAD 2018 по умолчанию отсутствовал так называемый "классический интерфейс", добавлена возможность восстановления.
- В установочный пакет AutoCAD Electrical 2018 произведена интеграция AutoCAD 2018.1 Update.
- Установочный пакет Autodesk Recap 2018 обновлен с версии 4.0.0.28 до версии 4.2.1.7.
- Утилита Autodesk Desktop App обновлена с версии 7.0.4.332 до версии 7.0.6.378.
- Утилита Autodesk Licensing Manager обновлена с версии 5.1.4 до версии 5.1.5 HotFix 1.
- Используемый в оригинальных дистрибутивах пакет .NET Framework 4.6 заменен на переработанный вариант из проекта [Slim] .NET Framework 4.7 Full x86/x64, со встроенными обновлениями по состоянию на 23 июля 2017 года.
- Добавлена возможность отказа от установки утилиты Autodesk Desktop App.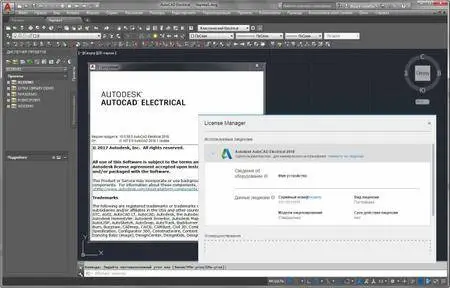 About Autodesk
Autodesk helps people imagine, design and create a better world. Everyone—from design professionals, engineers and architects to digital artists, students and hobbyists—uses Autodesk software to unlock their creativity and solve important challenges.
Product:
Autodesk Autocad Electrical
Version:
2018 Build 15.0.50.0 (2018.1 Build O.107.0.0)
Supported Architectures:
32bit / 64bit
Website Home Page :
www.autodesk.com
Language:
english, russian
System Requirements:
PC
Supported Operating Systems:
Windows 7even / 8.x / 10
Size:
5.6 Gb
Please visit my blog
Added by 3% of the overall size of the archive of information for the restoration and the volume for the restoration

No mirrors please