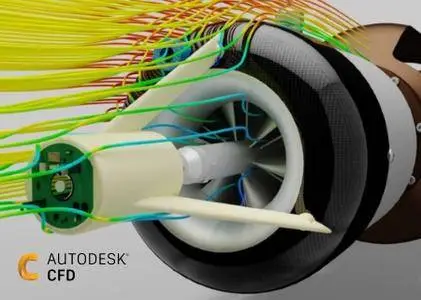 Autodesk CFD 2019.1 | 1.2 Gb
Autodesk product team is pleased to announce the availability of Autodesk CFD 2019.1, formerly Simulation CFD, delivers computational fluid dynamics tools that easily integrate into each phase of the design and engineering process.
Release Notes - Read Me file Autodesk CFD 2019.1 Update (August 28, 2018).The following items were addressed with this update:
- Using the wall calculator on internal solid to solid surfaces. These changes are done with the resid_heat_flux_calc feature flag.
- The scalable solver now supports LMA analyses.
About Autodesk CFD.
Autodesk CFD software provides fast, accurate, and flexible fluid flow and thermal simulation tools to help predict product performance, optimize designs, and validate product behavior before manufacturing—minimizing reliance on costly physical prototypes and helping you get innovative products to market faster. Easily explore and compare design alternatives and better understand the implications of design choices using an innovative Design Study Environment and automation tools. Autodesk CFD software supports direct data exchange with most CAD software tools including Autodesk Inventor software, Autodesk Revit software, Pro/ENGINEER, and SolidWorks. Autodesk CFD software enables you to make great products.
About Autodesk.
Autodesk helps people imagine, design and create a better world. Everyone—from design professionals, engineers and architects to digital artists, students and hobbyists—uses Autodesk software to unlock their creativity and solve important challenges.
Product:
Autodesk CFD
Version:
2019.1 Ultimate
Supported Architectures:
x64
Website Home Page :
www.autodesk.com
Language:
English, Chinese Simplified, Chinese Traditional, Japanese, German, French, Italian
System Requirements:
PC
Supported Operating Systems:
Windows 7even or newer / Windows Server 2008 R2 or Server 2012 (R2)
Size:
1.2 Gb
Please visit my blog
Added by 3% of the overall size of the archive of information for the restoration

No mirrors please