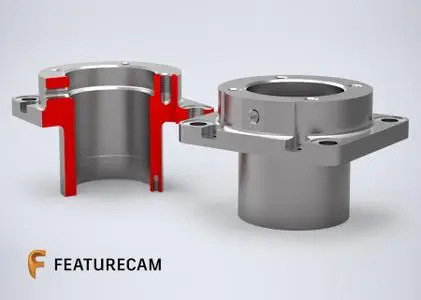 Autodesk FeatureCAM 2020.2.1 Update | 209.5 mb
Languages: Čeština, Deutsch, English, Español, Français, Magyar, Italiano, 日本語, 한국어,
Polski, Português, Pусский, 简体中文, 繁體中文
Autodesk has released an update to FeatureCAM 2020. This software automates your workflow from design to NC Code, reducing programming time and producing consistent results for CNC Milling, turning, and wire applications.
FeatureCAM 2020.2.1 Release Notes:Turning
Fixed an issue in which a turning tool could gouge with specific geometry if autoround was turned off. FCAM-4504
Tool cribs
Fixed an issue that could cause FeatureCAM to close unexpectedly when opening the Spindles and Toolholders for a tool if certain attributes were set.
Print preview
Fixed an issue in which Print Preview did not update when changing options.
Fixed an issue in which Print Preview did not show the white background if it was turned on.
Geometry construction
Fixed an issue that could cause FeatureCAM to close unexpectedly during the clip command when trimming curves at an intersection or end point.
FeatureCAM
is an advanced software package for unparalleled automation in CAM. As the name implies, it is a feature based, or knowledge based, manufacturing system. It knows about common features of parts and uses that knowledge to automate the manufacturing process. The knowledge-based technology in FeatureCAM gives you a powerful CAM system that combines automation with control. FeatureCAM generates toolpaths based on the features of the part and then automatically selects appropriate tools, determines roughing and finishing passes, and calculates feeds and speeds based on the software's built-in machining knowledge. You can easily edit the settings to suit the needs of your company or project, or according to your individual preferences.
Ease of use is a guiding principal in the development of FeatureCAM. Graphical feedback, step-by-step wizards and tutorial-style animations run directly in the program dialog boxes. Ease of use has always been a FeatureCAM advantage and with feedback from our customers we continue to study ways to make the software even easier to learn and use.
FeatureCAM offers a comprehensive solution for milling, turning, turn/mill and wire EDM. All of your machine tools can be programmed within a single user interface designed to shorten programming times and reduce the learning curve for new users. Integrated 3D machine simulation, together with a library of over 350 fully customisable post-processors, lets you visualise exactly how your parts will be machined.
Based on more than 20 years of development, FeatureCAM generates quality toolpaths – allowing you to produce parts of the highest standard for your customers. Delcam's policy of code sharing between its CAM software solutions has resulted in FeatureCAM benefiting from many of PowerMILL's proven strategies for high-speed machining and 5-axis machining. Multi-threading, the process of splitting toolpath calculation across multiple CPUs, lets you program your parts faster than ever before.
What's new in FeatureCAM 2020
The new features and enhancements added since FeatureCAM 2019.3.4.
Add-in improvements
Align parts in vises along positive and negative axes: When using the Import Vise add-in, you can now orient parts along X+, Y+, Z+, X-, and Y-, instead of just X, Y, and Z. This is useful for double station vises because they can then be reassembled in Multiple Fixture documents.
API improvements
Export as STL: When using the ExportToSTL method, all solids associated with a multi-body solid are exported. Identify holder type: A read-only HolderType property in FMLatheTool and FMThreadTool objects returns the type of holder.
PartMaker
PartMaker 2020: Autodesk PartMaker is again made available as part of FeatureCAM Ultimate, after an absence in 2019
FeatureCAM 2020 TURNING
Autodesk
helps people imagine, design and create a better world. Everyone—from design professionals, engineers and architects to digital artists, students and hobbyists—uses Autodesk software to unlock their creativity and solve important challenges.
Product:
Autodesk FeatureCAM
Version:
Ultimate 2020.2.1 Update
Supported Architectures:
x64
Website Home Page :
www.autodesk.com
Language:
multilanguage
System Requirements:
PC *
Supported Operating Systems:
*
Software Prerequisites:
Autodesk FeatureCAM 2020
Size:
209.5 mb
What is the System requirements for running Autodesk FeatureCAM 2020.

Operating System
Microsoft Windows 10 (64-bit)
Microsoft Windows 7 Service Pack 1 (64-bit)
CPU Type Multiple core 64-bit processor, such as AMD Phenom II or Intel Core i7
Memory
8 GB RAM minimum recommended
16 GB RAM or more recommended for demanding parts
Graphics Card
NVIDIA Quadro
At least 2GB fully OpenGL 2.0 compliant
Screen Resolution 1920 x 1200
Disk Space 160 GB
Autodesk FeatureCAM 2020
Please visit my blog
Added by 3% of the overall size of the archive of information for the restoration

No mirrors please