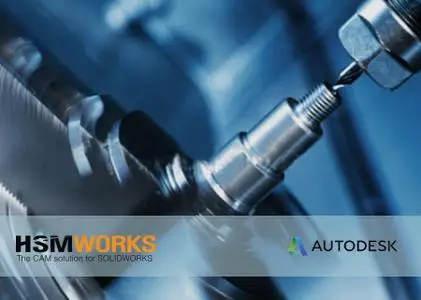 Autodesk HSMWorks 2021.1.0 Update | 238.6 mb
The Autodesk CAM development team is pleased to announce the availability of HSMWorks CAM 2021.1.0, is a powerful CAM software application designed to improve productivity and deliver seamless workflows in manufacturing environments so design teams can easily move components from the design stage through to CNC manufacture.
Autodesk HSMWorks 2021 Release Notes Build 15.1.0.43791 / 1 July 2020:
The following changes have been made in the current update (2021.1):
Changes for Milling
- Fixed an issue with lead-out gouging on a Flow operation in certain conditions. (#19918)
- When ordering "Outside to In" was selected in a Morphed Spiral operation, the resulting toolpath machined bottom to top as well as outside to in. This was corrected to that it will always machine top to bottom. (#17699)
- Improve the computation of raster zigzag links for Parallel operations so they are less likely to be rejected for no obvious reason. (#21652)
- Fixed an issue that caused a gouge in certain conditions when tangentially connecting linking moves for Contour operations. (#20316)
- Fixed an issue with several operation types that could cause a crash when Avoid surfaces were provided which were below the minimum Z. (#22060)
- Fixed an issue in which the Feed Height was incorrectly being raised when the vertical lead-in height was below the Feed Height on single pass contour operations ("Multiple Depths" and "Ramp" are disabled). (#19602)
- Fixed an issue that could occur in linking moves for a Spiral operation. (#18702)
Autodesk HSM software
bundle provides the best value in integrated CAM software available. Included are HSM add-ons for SOLIDWORKS and Autodesk Inventor. Integrated CAM helps CNC programmers, designers, and engineers rapidly produce machined parts in one seamless workflow, while maintaining model associativity for quick updates to part changes. Whether you are working with multiple CAD formats or starting from pencil sketches, Integrated CAM with your design software is the simplest and fastest way to machine your parts.
HSMWorks is designed from the ground up to work inside SolidWorks, providing a logical extension of the parametric SolidWorks assembly environment into the CAM world. Experienced SolidWorks users will feel right at home working with HSMWorks and will be able to create high-quality toolpaths within minutes. New users will benefit from the comprehensive 2D and 3D CAD capabilities of SolidWorks mechanical design solutions and quickly extend any knowledge gained to the CAM process, resulting in improved design quality and reduced product development time.
Overview of HSM— The Fully Integrated CAM Solution from Autodesk. CNC Programming right within Inventor, SOLIDWORKS and Fusion 360.
Autodesk
helps people imagine, design and create a better world. Everyone—from design professionals, engineers and architects to digital artists, students and hobbyists—uses Autodesk software to unlock their creativity and solve important challenges.
Product:
Autodesk HSMWorks CAM
Version:
2021 Build 15.0.0.43758 Ultimate
Supported Architectures:
x64
Website Home Page :
www.hsmworks.com
Language:
multilanguage
System Requirements:
PC *
Supported Operating Systems:
*
Software Prerequisites:
*
Size:
238.6 mb
- Autodesk HSMWorks 2021 supports Microsoft Windows 10 64-bit.
- HSMWorks 2021 is compatible with the 2018, 2019, and 2020 versions of SOLIDWORKS.
Autodesk HSMWorks 2021 Build 15.0.0.43758
Please visit my blog
Added by 3% of the overall size of the archive of information for the restoration

No mirrors please