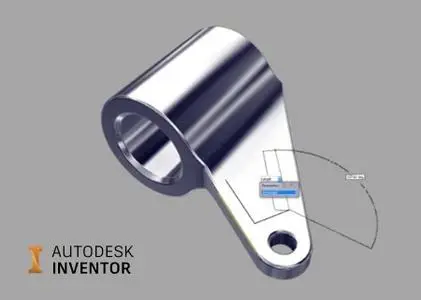 Autodesk Inventor 2017.4.8 Update | 185.3 mb
The Autodesk team has released an update to Inventor 2017.4. This Update include new capabilities and/or bug fixes that improve the 2017 release.
Inventor 2017.4.8 Update - Release Date 8 Jan 2019:
INVGEN-21097: Resolved an issue where a part file, containing DXF, would not open.
INVGEN-21220: Fixed a Bolted Connection Generator issue where the connection hasn't been patterned correctly for concentric placement.
INVGEN-22345: Resolved issues with dual dimensions in a .dwg file being exported incorrectly to a .idw file.
INVGEN-23393: The iProperty date value now shows the correct date.
About Autodesk Inventor 2017.
With this version of Inventor, Autodesk is delivering new capabilities aimed at supporting all aspects of this expanding role.
To help define this expanded role, Inventor's designers have tapped into a beta test group with 11,000-odd members to solicit software improvement suggestions and ensure launch day performance. Here are some of the highlights:
One of the principle improvements of Inventor 2017 has been an emphasis on making designing faster. To do so, Inventor 2017 will include better selection tools, an improved UI to support more intuitive 3D sketching, expanded options for patterning and enhanced surfacing tools. Inventor 2017 also comes with new automatic sheet metal corner relief options.
Additionally, Inventor 2017 makes it easier to understand complicated mating constraints with a new parent/child relationship browser. With the new browser, users can quickly visualize inter-part relationships and untangle the complicated relationships built into large assemblies. Further enhancements to the assembly workflow feature a transparency option that can cycle the visibility of an object, making it easier to work with embedded parts.
Inventor's designers have also made it a point to make interoperability simpler. In Inventor 2017, users will have an expanded toolset for working with non-native models. Inventor is capable of integrating imported models from other popular platforms like CATIA, NX, SOLIDWORKS, CREO, STEP and IGES without the need for translation.
Finally, Inventor's latest release adds a streamlined workflow for publishing 3D PDFs that can help illustrate ideas and manufacturing instructions in ways that are impossible with 2D drawings. To further enhance communication between project stakeholders, Inventor now supports Design Shares, a method for making design reviews both interactive and instantaneous.
Needless to say, Inventor 2017 represents a massive release. With hundreds of new features and workflow enhancements one of the largest CAD packages (by user) is becoming even more competitive. Dassault Systèmes may want to watch out.
About Autodesk.
Autodesk helps people imagine, design and create a better world. Everyone—from design professionals, engineers and architects to digital artists, students and hobbyists—uses Autodesk software to unlock their creativity and solve important challenges.
Product:
Autodesk Inventor
Version:
2017.4.8 build 256
Supported Architectures:
x64
Website Home Page :
www.autodesk.com
Language:
english
System Requirements:
PC
Supported Operating Systems:
Windows 7even or newer
Software Prerequisites:
Autodesk Inventor 2017.4 or above
Size:
185.3 mb
Autodesk Inventor 2017.4.7
Please visit my blog
Added by 3% of the overall size of the archive of information for the restoration

No mirrors please