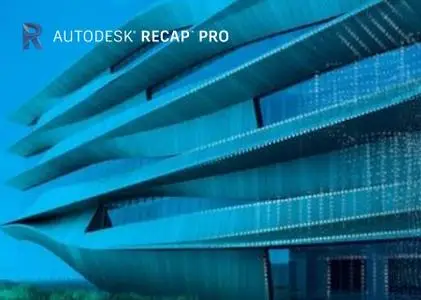 Autodesk ReCap Pro 2019.3 | 1.5 Gb
Languages: English, French, Italian, German, Spanish, Portuguese, Czech, Russsian, Polish, Hungarian,
Korean, Japanese, Simplified and Traditional Chinese.
Autodesk Inc., a world leader in 3D design software for entertainment, natural resources, manufacturing, engineering, construction, and civil infrastructure, announced the release of ReCap Pro 2019.3. This solution allows designers, engineers, and builders to integrate reality capture data into their design and building process.
About Autodesk ReCap Pro.
This product started as Project Memento, Autodesk's attempt to built a photogrammetry tool from the ground up. When Memento was still in beta it was free and available for Mac and PC. While both offered cloud processing (still a unique feature) only the PC version offered local processing on top of that, relying on Nvdia GPU acceleration.
When the project came out of beta in early 2017 it was rebranded to ReMake, which I wrote an in-depth Review about at the time, and marketed as a standalone photogrammetry tool for capturing objects and small environments. It was offered as a free version for up to 50 photo's which can be enough for small objects (FYI: 3DF Zephyr (Review) is currently the only Photogrammetry solution that offers a Free version for max 50 photos). If you wanted to load more photos (250 at the time) you could get a subscription to ReMake Pro for $30 a month of $300 a year. But while this gave the user unlimited local processing, cloud processing required the purchase of cloud credits.
ReMake was a great piece of software that combined great photogrammetry algorithms with an innovative user interface that offered a vast collection of mesh-editing tools. In fact, I sometimes used it just as a 3D scan editing and cleanup tool because it handled large meshes so well.
Unfortunately ReMake lived a short life because the Mac version was killed in March, 2017 and Autodesk decided to discontinue ReMake as a whole at the end of 2017. Since december, the product has been moved under the ReCap Pro subscription. This costs $40 a month or $350 a year. This also gives you the original ReCap Pro software suite, which focuses on processing an registration of laser scan data for construction and engineering purposes (it's also the dedicated software for the innovative Leica BLK360 laser scanner). To fit within that concept, ReCap Photo got new support for areal photogrammetry features.
In the end, ReCap Photo is still just rebranded version of ReMake. You can now also launch it by choosing Photo to 3D in ReCap Pro but it installs as a separate application that can be launched independently.
About Autodesk.
Autodesk helps people imagine, design and create a better world. Everyone—from design professionals, engineers and architects to digital artists, students and hobbyists—uses Autodesk software to unlock their creativity and solve important challenges.
Product:
Autodesk ReCap Pro
Version:
2019.3 (version 5.0.3.58)
Supported Architectures:
x64
Website Home Page :
www.autodesk.com
Language:
multilnguage
System Requirements:
PC
Supported Operating Systems:
Windows 7even SP1 or newer
Size:
1.5 Gb
Please visit my blog
Added by 3% of the overall size of the archive of information for the restoration

No mirrors please