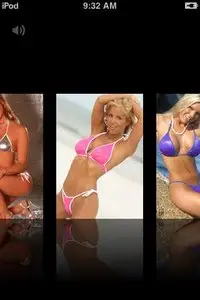 Bikini Girls 2 v1.0.0 | Software | iPhone | 2.2MB
Bikinis, Beauties, and Beautiful Places. What else could you want? How 'bout a whole collection of them wrapped up especially for your iPhone!
Don't waste time scanning through thousands of random images. We've preselected the best, high-quality wallpapers for you, for one low price. Each Versaly wallpaper collection comes with between 10 and 30 beautiful images.
FEATURES
• No internet connection is required for viewing images!
• All images are self-contained and always available for you to view, wherever you are!
• All images presented in an elegant, reflective gallery for your viewing pleasure.
• Use a swipe gesture to move through the images.
• Tap an image to zoom in for a close up look.
• Each image comes with a short descriptive note.
• Listen to an immersive audio soundtrack while you peruse the photo content.
• Save each image to your Photo Gallery to use as wallpaper for your device.
• Find out about the latest Versaly wallpaper collections in the built-in product catalog.
Download
http://rapidshare.com/files/31...ni_Girls_2_1.0.0-kidmoneys.rar