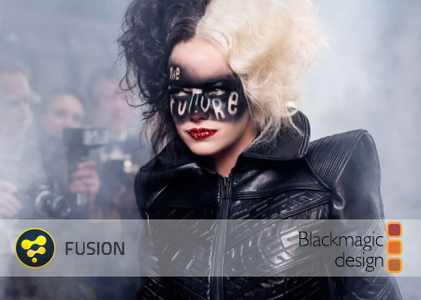 Blackmagic Design DaVinci Fusion Studio 17.3.1 macOs | 494.8 mb
Blackmagic Design has announced Fusion Studio 17.3.1. This software update adds general performance and stability improvements for Fusion Studio.
What's new in Blackmagic Fusion Studio 17.3.1
- Addressed a crash when loading some comps with a Coord Transform.
- Addressed a crash when enabling logging from the menu.
- Addressed a regression with Copy Metadata.
- General performance and stability improvements.
Fusion is the world's most advanced compositing software for visual effects artists,
broadcast and motion graphic designers, and 3D animators. Over the last 30 years, Fusion has been used on thousands of Hollywood blockbuster movies and television shows. Fusion features a powerful node based interface that lets you quickly and easily create sophisticated effects by connecting different types of image processing tools together! You get a massive range of tools, incredible VR and 3D support, GPU accelerated performance, unlimited network rendering and more! Fusion gives you everything you need to create exciting broadcast graphics, dramatic titles, and even major feature film visual effects!
Davinci Resolve 17.3 Update - 3 times FASTER Editing on Apple M1 Devices PLUS MORE!
This Beginners guide is designed for people who just have no idea how to get started in Fusion. We break down what nodes are, the different types, and how to use them within Fusion. Hopefully this Resolve 17 Tutorial help you break down the concepts so that you can start using Fusion and making awesome stuff!
Blackmagic Design Pty. Ltd.
manufactures video products for feature film, post production, and television broadcast industries. Its products include video editing products, professional digital film cameras, color correctors, video converters, video monitoring products, routers, live production switchers, disk recorders and storage solutions, waveform monitors, and real time film scanners. The company's products also include capture and playback cards, standards conversion products, broadcast converters, audio monitoring products, multiview monitoring products, routing and distribution products, test equipment, H.264 encoding products, and resolve and fusion software. In addition, it offers talkback converters for remote cameras. The company offers its products through authorized resellers and online resellers in Australia and internationally. Blackmagic Design Pty. Ltd. was founded in 1984 and is based in Port Melbourne, Australia. It has additional offices in Fremont, California; Knutsford, Uniт ed Kingdom; Singapore; Beijing, China; and Tokyo, Japan
Product:
Blackmagic Design Fusion Studio
Version:
17.3.1
Supported Architectures:
x64
Website Home Page :
www.blackmagicdesign.com
Language:
english
System Requirements:
macOs *
Size:
494.8 mb
Minimum system requirements for Mac
- Mac OS X 10.14.6 Mojave
- 8 GB of system memory. 16 GB+ for improved performance.
- GPU with at least 2GB of VRAM which supports Metal, OpenCL 1.2 or CUDA 10
- Latest graphics driver as recommended by your GPU manufacturer
Please visit my blog
Added by 3% of the overall size of the archive of information for the restoration

No mirrors please