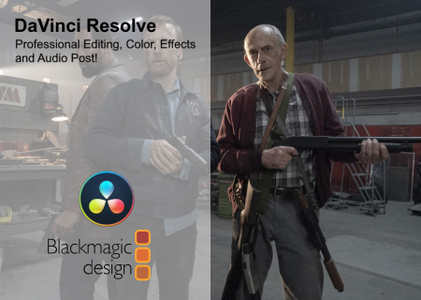 Blackmagic Design DaVinci Resolve Studio 17.4.1 macOs | 2.9 Gb
Languages Supported: English, Português, Français, Español, 中文, 日本語, Русский
Blackmagic Design has announced DaVinci Resolve 17.4.1. This software update fixes issues with automatic recognition of HDR displays on Apple Macs and adds a consistent approach to frame based clip imports. In addition, this update improves fade trimming behavior on the edit timeline, provides better retention of smart filter settings and fixes issues with playback performance and unicode character display for Text+
What's new in DaVinci Resolve 17.4.1
- Improved frame based imports from Finder.
- Addressed an issue with HDR on viewers on Mac.
- Addressed an issue with banding on video clean feed on Mac.
- Addressed incorrect fades when trimming in the edit timeline.
- Addressed an issue displaying certain unicode characters in Text+.
- Addressed an issue where Text+ expressions would not work.
- Addressed slow playback for Text+ with character styling.
- Addressed retention of smart filters between projects.
- Addressed nested macros not rendering or showing previews in Fusion.
- Addressed incorrect Fusion viewer behavior with tablet input devices.
- Addressed trim interpolation for imported XML Dolby Vision metadata.
- Addressed incorrect PAR values on some Blackmagic RAW clips.
- Addressed issue with lost customized subtitle backgrounds.
- Addressed an issue with unintended markers on Sony MXF clips.
- Addressed a decoding issue with Panasonic XAVC clips on Mac.
- General performance and stability improvements.
Davinci Resolve Studio
is a professionally focused video editor from the Australian company Blackmagic Design. The program has a wealth of features and is a great choice, both for experts and aspiring creators alike.
Much of its marketing material shows people with professional workstations hooked up to it. If you're used to working with these multi-buttoned behemoths, Davinci Resolve Studio may be the video editor for you. Blackmagic makes film industry hardware, as well as software, and Davinci Resolve Studio is an excellent tool for production-quality video work.
What's New in DaVinci Resolve 17.4
Discover what's new in DaVinci Resolve 17.4 including 5x faster editing and grading on Apple Mac models with M1 Pro and M1 Max chips, plus Dropbox Replay integration, subtitling improvements, support for more languages and layouts with Text+ and more.
Blackmagic Design Pty. Ltd.
manufactures video products for feature film, post production, and television broadcast industries. Its products include video editing products, professional digital film cameras, color correctors, video converters, video monitoring products, routers, live production switchers, disk recorders and storage solutions, waveform monitors, and real time film scanners. The company's products also include capture and playback cards, standards conversion products, broadcast converters, audio monitoring products, multiview monitoring products, routing and distribution products, test equipment, H.264 encoding products, and resolve and fusion software. In addition, it offers talkback converters for remote cameras. The company offers its products through authorized resellers and online resellers in Australia and internationally. Blackmagic Design Pty. Ltd. was founded in 1984 and is based in Port Melbourne, Australia. It has additional offices in Fremont, California; Knutsford, United Kingdom; Singapore; Beijing, China; and Tokyo, Japan
Product:
Davinci Resolve Studio
Version:
17.4.1
Supported Architectures:
x64
Website Home Page :
www.blackmagicdesign.com
Languages Supported:
multilanguage
System Requirements:
macOs *
Size:
2.9 Gb
Minimum system requirements

- macOS 10.15 Catalina
- 8 GB of system memory. 16 GB when using Fusion
- Blackmagic Design Desktop Video version 12.0 or later
- Integrated GPU or discrete GPU with at least 2GB of VRAM.
- GPU which supports Metal or OpenCL 1.2.
Please visit my blog
Added by 3% of the overall size of the archive of information for the restoration

No mirrors please