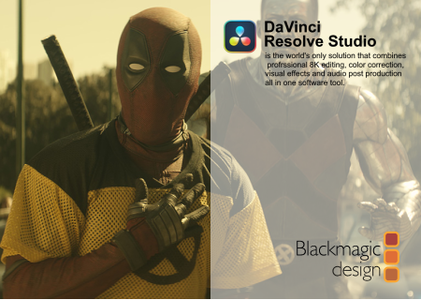 Blackmagic Design DaVinci Resolve Studio 18.0b3 | 10.3 Gb
Languages Supported: English, Português, Français, Español, 中文, 日本語, Русский
Blackmagic Design has announced DaVinci Resolve 18b3. This software update adds 2x faster object mask processing on M1 Macs and better smart bin recall on Windows. This update also improves automation trim in Fairlight and audio normalisation on the edit page. In addition, DaVinci Resolve Studio 18 Beta 3 addresses an occasional issue with image brush selection with paint nodes and improves paint clone offsets when working with non square aspect ratios.
What's new in DaVinci Resolve 18.0b3
- Up to 2x faster object mask processing on Mac.
- Resolve FX Surface Tracker now defaults to using overlay frames sequentially.
- Addressed surface tracker issues for blanking regions with manual sizing.
- Support for retaining reelname metadata in rendered EXRs.
- Addressed an issue with setting projects to multiple user collaborations.
- Addressed issues with automatic smart bins for some upgraded projects.
- Addressed imported DRT timelines not showing in timeline bins.
- Addressed a context menu issue in cinema viewers on Windows.
- Addressed incorrect generated LUTs when node sizing is present.
- Addressed an issue where Fairlight automation trim would not work.
- Addressed an issue with normalizing audio in the edit timeline.
- Addressed an issue with 7.1 channel mapping for VST 3 plugins.
- Addressed incorrect binaural render mode mapping in some configurations.
- Addressed an issue with hiding tracks from the Desktop Audio Editor.
- Addressed an issue with audio drop outs for clips with audio plugins.
- Addressed incorrect solo behavior for VCA masters.
- Addressed loss of take selectors when reloading some projects.
- Addressed issues with animating published points on polylines.
- Addressed an issue with paint node using image brushes.
- Addressed incorrect Fusion paint clone offsets for non-square aspect ratios.
- Addressed an issue with playhead overlapping keyframe ease controls in Fusion.
- Addressed an issue resetting Text+ shading keyframes.
- Addressed Text+ control naming ambiguities in splines view.
- Support for Nikon RAW is now also available on Apple Silicon systems.
- Scopes now reflect the current eye when enabling stereoscopic 3D views.
- Scripting API support to get unique ID for Resolve objects.
- Addressed project settings presets sometimes not being loaded.
- General performance and stability improvements
Davinci Resolve Studio
is a professionally focused video editor from the Australian company Blackmagic Design. The program has a wealth of features and is a great choice, both for experts and aspiring creators alike.
Much of its marketing material shows people with professional workstations hooked up to it. If you're used to working with these multi-buttoned behemoths, Davinci Resolve Studio may be the video editor for you. Blackmagic makes film industry hardware, as well as software, and Davinci Resolve Studio is an excellent tool for production-quality video work.
DaVinci Resolve 18
is a major release featuring cloud based workflows for a new way to collaborate remotely! You can host project libraries using Blackmagic Cloud and collaborate on the same timeline, in real time, with multiple users globally. The new Blackmagic Proxy generator automatically creates proxies linked to camera originals, for a faster editing workflow. Plus, support for Apple M1 Ultra gives you a powerful image processing engine, eliminating expensive cloud computing. There are new Resolve FX such as ultra beauty and 3D depth map, improved subtitling for editors, GPU accelerated Fusion paint and real time title template playback, Fairlight fixed to FlexBus conversion and more!
DaVinci Resolve Cloud
The recording of Blackmagic Design's livestream announcing the public beta of DaVinci Resolve 18.0. Coverage of Blackmagic Cloud and Da Vinci Resolve 18.0 itself starts at 00:12:25.
Blackmagic Design Pty. Ltd.
manufactures video products for feature film, post production, and television broadcast industries. Its products include video editing products, professional digital film cameras, color correctors, video converters, video monitoring products, routers, live production switchers, disk recorders and storage solutions, waveform monitors, and real time film scanners. The company's products also include capture and playback cards, standards conversion products, broadcast converters, audio monitoring products, multiview monitoring products, routing and distribution products, test equipment, H.264 encoding products, and resolve and fusion software. In addition, it offers talkback converters for remote cameras. The company offers its products through authorized resellers and online resellers in Australia and internationally. Blackmagic Design Pty. Ltd. was founded in 1984 and is based in Port Melbourne, Australia. It has additional offices in Fremont, California; Knutsford, United Kingdom; Singapore; Beijing, China; and Tokyo, Japan
Product:
Davinci Resolve Studio
Version:
18.0b3 (18.0.0.14)
Supported Architectures:
x64
Website Home Page :
www.blackmagicdesign.com
Languages Supported:
multilanguage
System Requirements:
Windows / macOs / Linux *
Size:
10.3 Gb
Please visit my blog
Added by 3% of the overall size of the archive of information for the restoration

No mirrors please