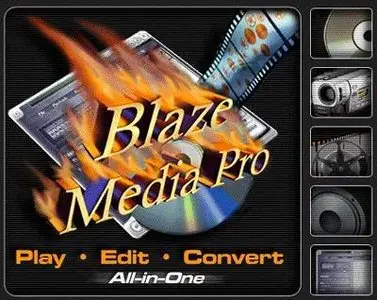 Blaze Media Pro v9.10 | 23.95 MB
Blaze Media Pro
- Multimedia program class all in one. Designed for recording, editing, converting and playing audio, as well as viewing / converting video and animation. It supports common formats such as audio-CD, MP3, WAV, AVI, QuickTime, video-CD, Multi-Page TIFF, FLIC, MIDI, AIFF, AU, SND, etc., as well as recording from any external sound sources.
A full-featured audio editor allows you to make with the sound of almost everything that can be done with it, no less impressive look and features of the program to convert both audio and video files. When viewing video supports scaling and full screen mode, and change playback speed and position control. There is support for playlists, and audio and video files can be combines in a single playlist support load CD information from CDDB, is editor of MP3-tags, and many more variety of useful functions. Besides all this, the program also looks quite good-looking (at least for my taste).
Features:
• Player audio and video files
• converter, converter audio and video files
• Screen Grabber
• Editor of audio and video files
• Batch files
• Audio connection
• search lyrics
• Playlists
• cataloging collections
• burn any CD and DVD
• extract audio from video
• extract frames from video into a sequence of images
• creation of video files from graphics files and music
• Audio CD Grabber
• Support: WAV PCM, Compressed WAV (ADPCM, GSM, DSP, A-LAW, U-LAW, ALF2), MP3 (MPEG Layer-3), MP2 (MPEG Layer-2), OGG Vorbis, VOX (Dialogic ADPCM) , WMA (Windows Media Audio), RAW (PCM, A-LAW, U-LAW), CDA (Audio CD Tracks), AIF, VOX, MPC, G.72x, AU, RAW, MPEG-1, MPEG-2, AVI, WMV, Multi-Page TIFF, FLIC. MPEG, VCD, SVCD, DVD, WMV, ASF, BMP, GIF, JPG, PCX, PNG, RAS, PPM, TGA, TIF and other formats
• search and check the album on the CDDB database
• visual editing of audio files with standard functions
• the imposition of filters and effects (Band Pass Filter, High Pass Filter, High Shelf Filter, Low Pass Filter, Low Shelf Filter, Notch Filter, Amplify, Compressor, Delay, Equalizer, Fade In and Fade Out, Flanger, Invert, Normalize, Phaser , Reverb, Reverse, Shrink, Silence, Stretch, Vibrato)
• Program implemented in the form of modules
• everything is accessible and understandable even to the beginner
• High speed
• high quality results
• a pleasant and convenient interface
DOWNLOAD:
HOTFILE | FILEFACTORY
NO MIRROR PLEASE!!!
MY BLOG:
http://avaxhome.ws/blogs/presoft