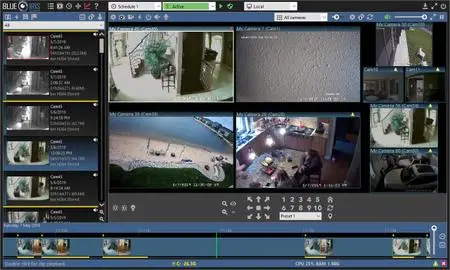 Blue Iris 5.3.3.15 (x64) | 143.3 Mb
Blue Iris Professional Surveillance Software allows you to view and record up to 64 cameras (IP cameras, web cameras, DVR/CCTV based cameras) simultaneously and is compatible with the vast majority of IP camera and DVR brands. In addition. it takes advantage of H.264 video compression allowing you to save hard drive space and reduce bandwidth consumption. Use Amcrest Blue Iris to turn your existing Windows PC into a fully featured professional video surveillance system.
Additional features include continuous loop recording, scheduled recording and advanced motion/audio detection recording with the ability to send alerts via email, instant message and phone call.
Supported brands include: Amcrest, FDT, Foscam, 4XEM, ACTi, Agasio, AirLink101, AIRLive, Allnet, Apexis, Arecont, Astak, AVTech, Aviosys, Axis, Bosh, Canon, Cisco, Coolcam, Dericam, Digi-Lan, DLink, EasyN, Edimax, Evocam, Gadspot, Ganz, Grandstream, Hawking, HIKVision, HooToo, Intellinet, JVC, Linksys, Logitech, Lorex, Microseven, Mobotix, Panasonic, Pelco, Planet, Sanyo, Sharxx, Siemens, Sony, Stardot, Swann, Toshiba, Tenvis, TP-LINK, Trendnet, Vivotek, Wansview, Y-Cam Zavio, Zonet, and many more.
Mobile Access
- View live & recorded videos
- Manage multiple installations
- Control PTZ, IR & more functions
- Listen & talk
- Easily navigate cameras
Video Security
- Use motion or audio sensing to trigger recording, or record continuously or periodically.
- Overlay the current date/time as well as a logo or other information.
- Optionally record audio.
- Use a timer to determine when the system is armed.
- Images may be captured as either JPEG images, MPEG movies or Windows Media movies.
- Receive alerts via loudspeaker, email, instant message, voice phone call (with automatic redial), or external program/script.
- Run Blue Iris as a Windows service so that only you have control over its operation on a shared PC.
Web Server (UI3)
- Built-in web server enables you to bring your Blue Iris with you anywhere!
- Remotely connect to your Blue Iris from anywhere in the world, from any web enabled device.
- Desktop and mobile viewing.
- View live cameras, recorded clips and alerts.
- User authentication with permission based viewing.
- Automatically adjusts if IP changes.
- Detailed log.
- Use Blue Iris's powerful digital Zoom and Pan functionality remotely!
Recommended Specs:
Intel core i7 with QuickSync for hardware decoding
8GB or more RAM
Microsoft Windows 10 64 bit
nVIDIA graphics adaptor for efficient screen display
7200+ RPM drives and/or SSD drive
Home Page
-
https://blueirissoftware.com/