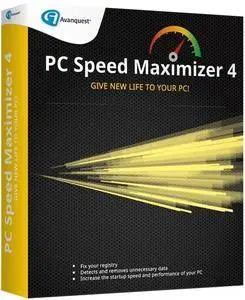 Avanquest PC Speed Maximizer 4.3.3 | 3.6 MB
PC Speed Maximizer 4 automatically detects and fixes the issues slowing down your PC's performance. Keep your computer running like new and protect your privacy with PC Speed Maximizer. PC Speed Maximizer is fast, easy and safe! The program is designed so that even novice users can keep their computers running like new.
Is your PC slow? Give it a new lease of life!
- Optimise your PC's speed and reliability by cleaning up your registry
- Detect and securely delete the unnecessary data clogging up your PC
- Improve the speed of Windows start-up and the performance of your software applications
Fix your PC
Detect, analyze and fix all types of PC issue:
- Registry problems: using your computer regularly leaves your registry fragmented and cluttered with obsolete and unwanted data.
- With PC Speed Maximizer you can keep your PC's registry in perfect shape
- Broken link problems: clean up your desktop and Start menu by redefining or deleting broken links
Clean up your PC
Find the unwanted data clogging up your PC and delete it securely in order to regain precious disk space
- Clean up your PC log files to ensure greater confidentiality.
- Find and delete unnecessary files generated by software, system crashes or reboots.
- Get rid of duplicate files, a common cause of errors
Optimize your PC
Improve the speed of Windows start-up and the performance of your software applications:
- Fine-tune and optimize the hidden Windows options affecting your PC's appearance, security and performance.
- Configure a quicker Windows start-up and clean up the files left behind after uninstalling software.
Protect your confidential information
Wipe clean your internet browsing and session history
- File history
- Temporary files and directories
- Web caches
- Web cookies
- Temporary registry values
What's New in Version 4:
- NEW! More intuitive user interface with added features
- NEW! Detailed information about your registry
- NEW! Handles bulky folders
- NEW! Optimization includes advanced disk analysis
NEW! Even faster windows start up
Enjoy a new advanced start up menu! Recommendations to help you choose which programs to keep when starting up Windows and which you can delete securely.
NEW! A more modern and more intuitive interface
PC Speed Maximizer has been given a makeover! Completely redesigned, the interface is more comprehensive, more dynamic and more intuitive for greater ease-of-use and better results.
NEW! Free up even more disk space
Your PC is bursting with heavy, often useless, files. With PC Speed Maximizer 4, access that data in just a few clicks, organise it by size, delete it securely and thus free up several hundred mega-bytes of disk space in just a few minutes.
NEW! Greater security for enhanced performance
From now on, monitor the level of protection on your PC with PC Speed Maximizer. This new version checks whether anti-viruses, firewalls and spyware are installed properly and activated on your computer.
PC Speed Maximizer 4 is also:
- A more comprehensive performance analysis screen
- Access to Windows optimisation tools on one single screen
- New "Register", "Optimisation" and "Clean Up" menu
- A new hard disk analyser
- New automatic performance notifications
- And lots more…
System Requirements:
- Windows 2000, Windows XP, Windows NT, Windows Server 2003, Windows Vista 32-bit, Windows Vista 64-bit, Windows XP 64-bit, Windows 7, Windows 7 64-bit, Windows 2003 Server 64-bit, Windows 7 32-bit, Windows 8, Windows 10
- Pentium Processor
- 64 Mb of RAM
- 10 Mb of free space on the hard disk
Home Page -
https://www.avanquest.com/