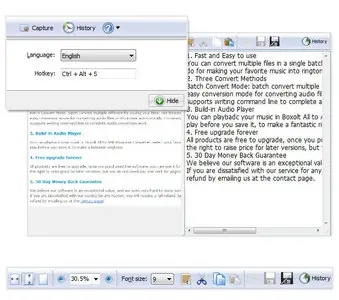 Boxoft Screen OCR 1.5.0 | 4.1 MB
Have you faced the problem with data on your PC screen you couldn't copy (such as read-only PDF or blocking script)? Boxoft Screen OCR is fast and easy-to-use software which helps to extract any area on your screen, recognize every character and then save as TXT file. The smart tool enables you to select text from anywhere on the screen, including areas that you cannot highlight with your mouse, like dialog boxes, protected Web pages, PDF files, error messages and so on.
Key features:
* Capture text from any part of the screen and save as text file
* Select text with visible rectangular selection tool
* Recognize characters in multiple languages, including: English, French, German, Italian, Dutch, Spanish, Portuguese, Basque, etc.
* OCR selected text with one click
* Edit captured text directly in OCR interface
* Side-by-side windows to edit OCR text intuitively
* Simple text edit tools, such as Select All, Cut, etc.
OS :
Win XP/2000/Vista/Win 7
Language
: English
Home Page
-
http://boxoft.com/screen-ocr/
Download link:

filesonic
http://www.filesonic.com/file/1614670564/Boxoft_Screen_OCR.1.5.rar


My News

No more mirror please!