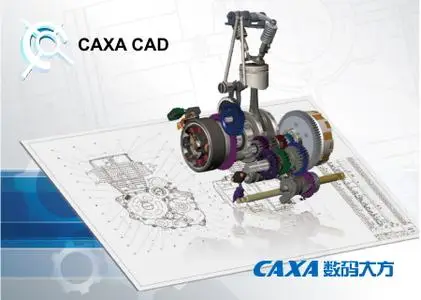 CAXA CAD 2020 SP0 | 909.7 mb
The CAXA product team is pleased to announce the availability of CAXA CAD 2020 SP0 is a tool that helps to develop new products and make drawings within a short time.
New Functions of CAXA CAD 2020
- The newly designed interface and functional icons support 4K high-definition resolution, and can achieve perfect interactive experience when DPI up to 200%. CAXACAD 2020 functional icon is clear, interface is beautiful and layout is reasonable.
- Models and layout spaces support different colors
- Added the option of setting the default save file to DWG format.
- Supported configuring default saved file names in options.
- When filling out the detailed form, you can press the drop-down menu. The content of the field can be configurable.
- Solved some problems existing in previous versions, such as:
. Solved the problem of incorrect display of file linetype proportion while viewing DWG
. The problem of incorrect central hole marking ratio was solved.
. Solved the problem that the instructions can't be remembered.
. Solved the problem of batch renaming file failure in extension tools
. Solved the problem of crash in some cases under Win10
. Solved the problem of abnormal double-click OLE program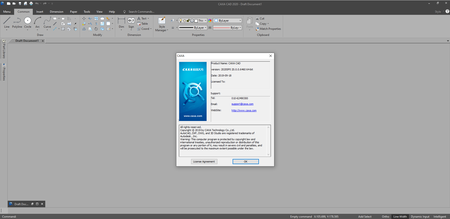 CAXA CAD
electronic drawing board is one of the most popular 2D drawing tools on the market. With 20 years of integrity, it has become the trusted choice of 300,000 manufacturing engineers. CAXA CAD electronic drawing board is stable, reliable, cost-effective, autonomous and controllable "domestic genuine" and other characteristics, making it the preferred CAD brand in the manufacturing industry. The CAXA CAD electronic drawing board 2020 version has lived up to expectations, and has provided a satisfactory answer to users who are looking forward to in terms of stability, integration compatibility depth, intelligent new functions, and optimized 4K interface.
CAXA
is the largest domestic provider of computer-aided design (CAD), computer-aided manufacturing (CAM), and product lifecycle management (PLM) solutions in China. The company's suite of CAD/CAM products and PLM solutions are designed to address the complete spectrum of product life cycle requirements-from early conceptual design, detailed design, process planning, and shop-floor management to post-sale services.
Product:
CAXA CAD
Version:
2020 SP0 version 20.0.0.6460
Supported Architectures:
32bit / 64bit
Website Home Page :
www.caxa.com
Language:
English, simplified 中文, Traditional 中文
System Requirements:
PC *
Supported Operating Systems:
*
Size:
909.7 mb
System requirement

Operating System requirement:
Windows XP/Windows 2003/ Windows Vista/Windows 7/Windows 8/Windows 10;
Computer Hardware requirement:
2.0G CPU or above;
512Mb RAM or above. 24 bit truecolorvideo card, 256MB or above video memory.
Resolution is more than 1024X768 truecolor display.
USB serial bus controller.
Over 800 MB free hard disk space for installation partition.
Please visit my blog
Added by 3% of the overall size of the archive of information for the restoration

No mirrors please