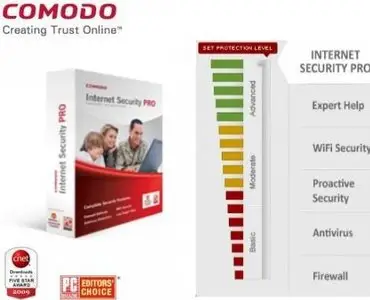 COMODO Internet Security 3.13.125300.577 (32/64-bit) | 84.08MB
Comodo Internet Security
- a comprehensive package to protect your computer from viruses, Trojans and other malicious software and hacker attacks. It is easy to use program which is in no way does not increase the load on your computer. Balanced modules offer the maximum guarantee of protection against viruses. There are many opportunities for a quiet surf the Internet, to combat viruses, Trojans, adware-modules, etc.
The Suite Comodo Internet Security includes antivirus and firewall, but the main feature of this package is its price - the company Comodo offers a powerful solution for free to all users. Among other features, the package CIS provides protection from viruses, intrusive advertising modules, spyware, phishing, Trojans, bots, and also supports real-time protection from all kinds of attempts of unauthorized access to the resources of a user's computer in real time.
Firewall is Comodo Firewall Pro, is included in the package Comodo Internet Security, has earned wide recognition throughout the world and recognized as the best free firewall in such prestigious publications as the Washington Post, PC Magazine, and Lifehacker. In conjunction with a firewall works not less well-known free anti-virus toolkit Comodo, has earned high marks publications such as Computer Shopper and Computer America. Most commercial products with the same level of functionality would have cost the user in the amount of approximately $ 70.
Features Comodo Internet Security:
- Blocks the installation of viruses, worms, spyware, keyloggers and other malicious software.
- Blocks port scans, attempts to penetrate, hackers.
- Blocks modification of critical system files.
- Built-in scheduler allows you to scan on a schedule.
- Isolate suspicious files in quarantine.
- Daily automatically updated virus database.
- Free use. No fees or donations.
During installation, you will be asked to choose from:
* Install anti-virus as a standalone product
* Set the firewall as a standalone product
* Install firewall and antivirus
DOWNLOAD:
HOTFILE | FILEFACTORY
NO MIRROR PLEASE READ RULERS
MY BLOG:
http://avaxhome.ws/blogs/presoft