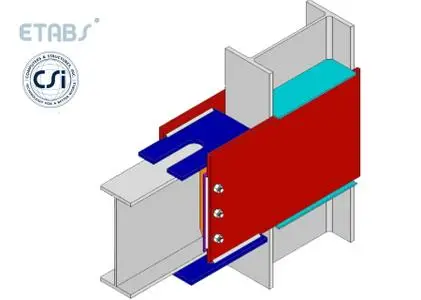 CSI ETABS version 19.0.0 build 2277 | 963.8 mb
Computers and Structures, Inc. (CSI), is pleased to announce the availability of ETABS version 19.0.0 build 2277. Enhancements added to release include new loading codes, new and updated design codes, speedier Performance-Based Design (PBD), Perform 3D import/export, cloud licensing, remote API, and more.
ETABS 19.0.0 Release notes - Date: 28 Oct. 2020
Structural Model
The special requirements applied to the steel beam-column connections using the proprietary SidePlate® Systems have been updated to the latest version.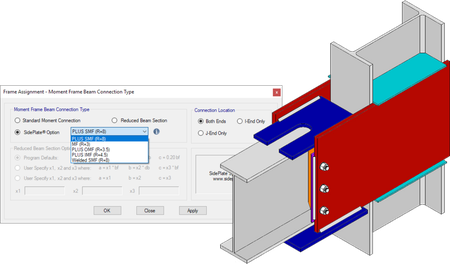 The Korean common rebar set is now available when defining reinforcing bar sizes.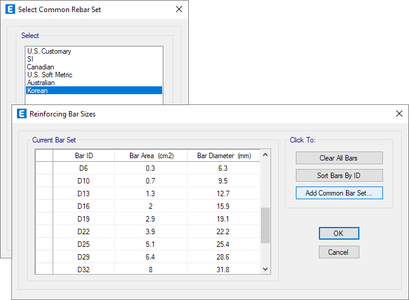 Loading
Auto lateral loading has been added per the Korean KDS 41 17 00:2019 code, including seismic load and response-spectrum functions.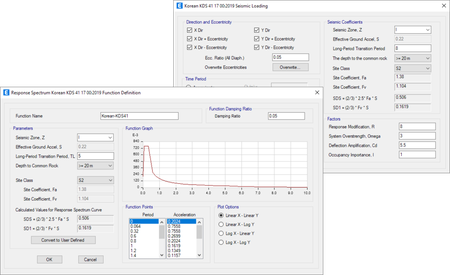 Auto lateral loading has been added per the NTC 2018 code, including wind load, seismic load, and response-spectrum functions.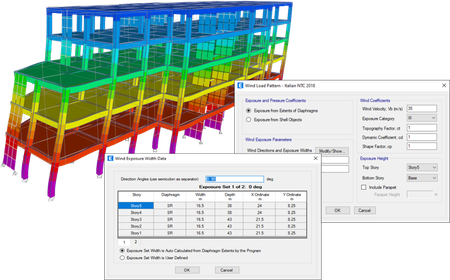 Performance-Based Design
- The event-to-event analysis method has been improved for better handling of equilibrium unbalances. Additional controls are available for this non-iterative method.
- The speed of solution using the multi-threaded solver has been substantially increased for direct-integration time-history and other multi-step load cases.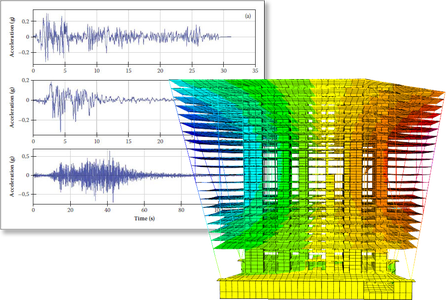 The recovery of plotted and tabular results from nonlinear static and direct-integration load cases is now significantly faster. Results include deformed shape, force and stress values, and hinge states.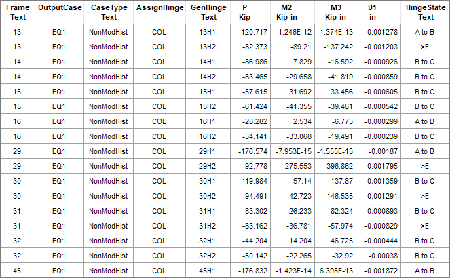 The parametric PMM hinge has been enhanced to provide better convergence behavior in sensitive systems.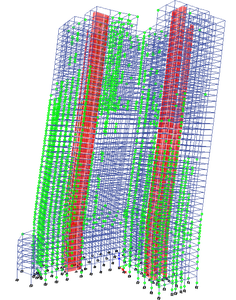 Analysis
Short-term and long-term cracked-deflections can now be calculated for concrete floors. The rebar used for the cracking calculation is based on either provided rebar, designed rebar, or a quick rebar overwrite.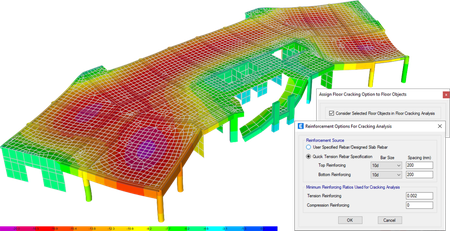 Steel Frame Design
Numerous enhancements have been implemented for Russian SP 16.13330.2017 steel frame design.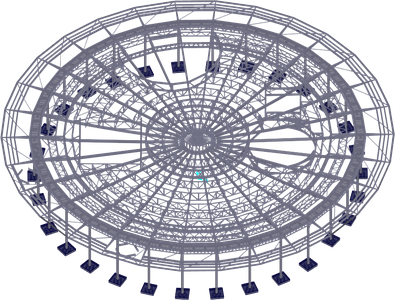 Concrete Frame Design
- Concrete frame design has been added per the ACI 318-19 code.
- Composite column design has been added per the AISC 360-16 code.
Shear Wall Design
Shear wall design has been added per the ACI 318-19 code.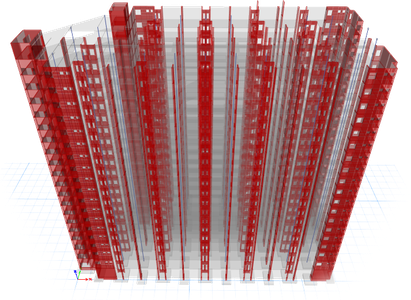 Slab Design - Reinforced Concrete and PT
Slab design has been added for reinforced-concrete and prestressed (PT) slabs per the following codes:
- ACI 318-19
- AS 3600-2018

Graphics
DirectX 2D is now used for plan and elevation views, providing faster and clearer rendering, improved line quality, and True Type fonts.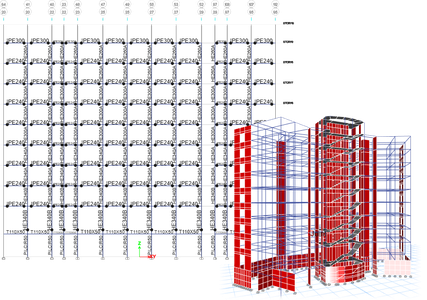 Database Tables
The automatic tabular output after analysis can now be directed to multiple files. Each file can produce a different set of tables and can apply to a different group.
External Import/Export
- Perform 3D model files can now be imported into ETABS. Most elements, cross-section properties, mass, loads, and load cases will be imported and translated. Certain types of nonlinear components will also be transferred, and a report will be produced of what was translated.
- Perform 3D model files can now be exported from ETABS. Most structural objects, properties, loads, and load cases will be exported and translated. The ETABS model to be exported must meet modeling requirements of Perform®3D. A report will be produced of what was translated.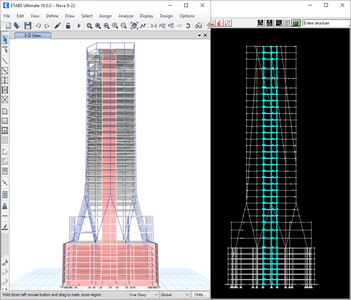 Application Programming Interface (API)
The API can now start and control instances of ETABS on remote computers, including the retrieval of results. This enables distributed processing for running large suites of Performance-based Design histories, extensive parameter studies, and Monte Carlo simulations.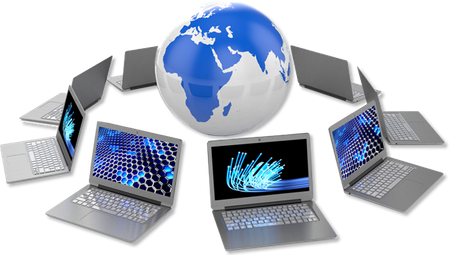 Cloud Licensing
Cloud-based licensing is now standard for ETABS.
- Cloud-based server requires no setup
- Access licenses outside of company networks and VPNs
- Share licenses between users (non-simultaneous)
- Check-out a license to work offline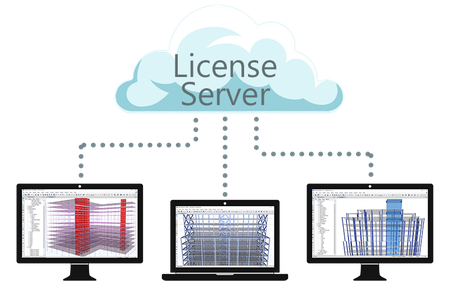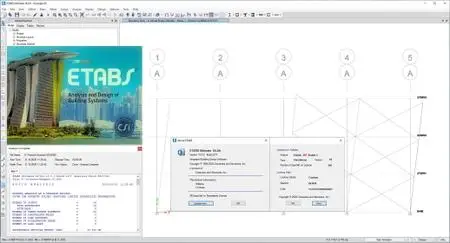 ETABS
is an engineering software product that caters to multi-story building analysis and design. Modeling tools and templates, code-based load prescriptions, analysis methods and solution techniques, all coordinate with the grid-like geometry unique to this class of structure. Basic or advanced systems under static or dynamic conditions may be evaluated using ETABS. For a sophisticated assessment of seismic performance, modal and direct-integration time-history analyses may couple with P-Delta and Large Displacement effects. Nonlinear links and concentrated PMM or fiber hinges may capture material nonlinearity under monotonic or hysteretic behavior. Intuitive and integrated features make applications of any complexity practical to implement. Interoperability with a series of design and documentation platforms makes ETABS a coordinated and productive tool for designs which range from simple 2D frames to elaborate modern high-rises.
CSI ETABS Tutorials
Founded in 1975, Computers and Structures, Inc. (CSI)
is recognized globally as the pioneering leader in software tools for structural and earthquake engineering. Software from CSI is used by thousands of engineering firms in over 160 countries for the design of major projects, including the Taipei 101 Tower in Taiwan, One World Trade Center in New York, the 2008 Olympics Birds Nest Stadium in Beijing and the cable-stayed Centenario Bridge over the Panama Canal. CSI's software is backed by more than three decades of research and development, making it the trusted choice of sophisticated design professionals everywhere!
Product:
CSI ETABS
Version:
19.0.0 build 2277
Supported Architectures:
x64
Website Home Page :
www.csiamerica.com
Language:
english
System Requirements:
PC *
Size:
963.8 mb
Processor
- Minimum: Intel Pentium 4 or AMD Athlon 64
- Recommended: Intel i5/i7, AMD Athlon X4/Ryzen, or better
- A 64-bit CPU is required
- The SAPFire Analytical Engine includes multi-threaded solvers and algorithms that can take advantage of multi-core CPUs. The design algorithms can also utilize multiple cores.

Operating System
- Microsoft Windows 7, Microsoft Windows 8 or Microsoft Windows 10
- 64-bit processor

Video Card
- Minimum: Supporting 1024 by 768 resolution and 16 bits colors for standard (GDI+) graphics mode
- Recommended: Discrete video card with NVIDIA GPU or equivalent and dedicated graphics RAM (512 Mb or larger) for DirectX graphics mode. The card must be DirectX 11 Compatible.
- DirectX graphics mode fully utilizes the hardware acceleration provided by a GPU and dedicated graphics RAM.
- For better graphics quality in terms of anti-aliasing and line thickness, the device raster drawing capabilities should support legacy depth bias.

Memory
- Minimum: 8 GB RAM
- The problem size that can be solved and the speeds for solution & response recovery increase considerably with more RAM.

Disk Space
- 6 GB to install the software.
- Additional space will be required for running and storing model files and analysis results, dependent upon the size of the models
- Recommended: 500GB or larger PCIe Solid State Drive (SSD). External and network drives are not recommended.
Please visit my blog
Added by 3% of the overall size of the archive of information for the restoration

No mirrors please