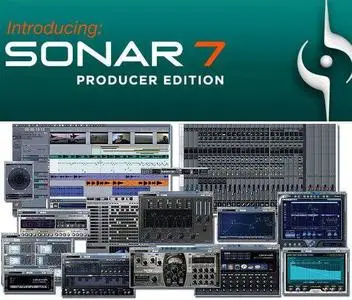 Cakewalk Sonar Producer Edition 7.0.1
Music Producer System | Cakewalk | DVD ISO | 3700 Mb
Introducing:
Take a fresh look at your evolving music creation and production needs, and turn to SONAR 7 Producer Edition, the technology leading digital audio workstation. SONAR offers a remarkable experience that excels at every step of your production—from its inspiring, open and customizable environment, to intuitive music creation and editing tools, to polished mixing, editing and delivery—with the recognized best audio quality in the industry.
Unlimited potential:
SONAR 7 Producer Edition places no limits on your track count, bus routing, effect or instrument inserts, and includes an ample array of audio effects, virtual instruments, and innovative technologies to power your productions. These include the precision LP-64 EQ™ & LP-64 Multiband™ linear phase mastering plug-ins, Z3TA+™ Waveshaping Synthesizer, Dimension™ LE and Rapture™ LE, Active Controller Technology™, AudioSnap™, and much more. These are complemented by two Roland® virtual instruments and the V-Vocal™ processor, the Lexicon Pantheon Reverb, Perfect Space Convolution Reverb powered by Voxengo, VC-64 Vintage Channel™ powered by Kjaerhus Audio, AudioSnap™ rendering with iZotope Radius, POW-r dithering, thousands of instrument sounds, over a gigabyte of sample content, and much more.
Powered by the latest technology:
SONAR takes full advantage of the power of your machine; it's a powerhouse on today's multi-core PCs and Intel-based Macs (using Bootcamp). You can feel confident that you'll never be left behind, no matter how technology changes. Cakewalk has been first to innovate on Windows Vista, x64 processing, multi-core and multi-processor support, and 64-bit double precision audio quality, and SONAR incorporates it seamlessly so all you need to think about is making music.
Make it your own:
SONAR gives you the freedom to configure your studio to meet your unique needs. It's compatible with your choice of WDM or ASIO hardware from the stock sound card that ships with your PC all the way up to an SSL AWS 900+ console. If you're switching to SONAR you can load presets of keystrokes from your favorite applications or you can make your own. It features the best support for control surfaces and MIDI controllers, and you can expand your creative abilities with DSP cards, and third party VST, DirectX, and ReWire effects and instruments. Plus you can customize menus, toolbars, layouts, channel presets, track icons, color schemes, and more just the way you want it.
Backed by unparalleled support:
SONAR is developed by musicians who listen, understand, and respond to the discerning needs of our customers, including Grammy and Emmy winning producers, engineers, and composers. When you choose SONAR, you are getting a complete package that includes regular updates, affordably priced upgrades, an unbeatable user forum, and the backing of world class customer service and support that has made Cakewalk the musician's favorite for over 20 years.
Create with SONAR 7
* Record and edit unlimited tracks of audio and MIDI with effects on input
* Get the perfect take with the best comping, editing, and take management tools available
* Create and edit MIDI in new and intuitive ways with an integrated Step Sequencer, Smart MIDI Tools, and other extensive MIDI enhancements
* Use AudioSnap to non-destructively fix audio timing, make instant tempo changes to an entire project, lock multiple tracks into the same groove—even quantize multiple tracks in relation to each other. All with unmatched audio fidelity
* Perfect your vocals with Roland® V-Vocal™ editor, providing pitch correction, phrasing, dynamics, and vibrato now with Pitch to MIDI conversion
* Make music with thousands of amazing instruments sounds from Z3TA+ waveshaping synthesizer, Dimension LE (including Garritan Pocket Orchestra), Rapture LE, Session Drummer™ 2; TTS-1 and Groove Synth (with genuine Roland sounds); PSYN-II subtractive synth; Drop Zone and RXP REX samplers and more
* Use Active Controller Technology (ACT) to get total control of virtual instruments, effects, and mixing from your MIDI controllers and control surfaces. Change your focus and ACT automatically remaps parameters
* Connect any Windows-compatible MIDI devices, control surfaces, and WDM or ASIO audio interfaces
* Control and automate your virtual instruments with the enhanced Synth Rack. Group controls from multiple instruments together for ultimate tweakability
* Create backing tracks fast with MIDI groove clips, ACID™-format loops, and RXP™ REX player
* Expand your sound with integrated support for VST, DirectX, and ReWire instruments and effects
* Score to video with a thumbnail track and output to 1394 FireWire devices
* Personalize SONAR's look and feel with a user configurable interface. Put your favorite features right at your fingertips
Polish with SONAR 7
* Mix with superior sonic clarity using SONAR's industry-first, end-to-end, 64-bit double precision floating point mix engine (accessible on 32-bit computers).
* Sweeten your mix with professional effects: Boost 11 Peak Limiter, new Linear Phase EQ and Multiband Limiter, VC-64 Vintage Channel, Perfect Space™ Convolution Reverb, Lexicon Pantheon™ Reverb, Sonitus:fx Suite, and more—34 audio and 8 MIDI effects in all
* Mix projects with complete flexibility using SONAR's configurable console view, Universal Bus Architecture, true surround busses, bus waveform preview, configurable metering with real-world ballistics, and unlimited tracks, busses, sends and inserts
* Achieve a new level of mix sophistication with internal sidechaining for Sonitus:fx Compressor, Sonitus:fx Gate, and VC-64 Vintage Channel
* Keep tracks tight with automatic plug-in delay compensation for both internal plug-ins and outboard hardware effects
* Automate your mix, instrument, and effect parameters with freehand and pattern-based envelopes, and individual read and write control of all tracks, instruments, and effects
* Freeze tracks, instruments, and effects to conserve processing power
* Take your productions deeper with scalable load balancing for multi-processor and multi-core computers. 8 cores and beyond
* Deliver audio at virtually any bit-depth, and sample rate (up to 64-bit, 500 kHz). Native 64-bit audio is the highest quality in the industry
* Ensure pristine quality with POW-r dithering and Windowed Sinc sample rate conversion
* Deliver audio and video in virtually any format including ? Sony Wave-64, AIF, CAF, FLAC, SD2, WAV, QuickTime, MP3, WMA. Export to OMFI and Broadcast WAV for collaboration with Pro Tools and other DAWs
* Upload songs directly to the Internet and build song players for your website, with Cakewalk Publisher
* Burn your mixes directly to CD with integrated CD burning
* Includes 32-bit version for Windows XP/Vista and a 64-bit version for use with Windows Vista x64 Edition. Experience 20-30% processing performance gains and access up to 128 GB of RAM on x64