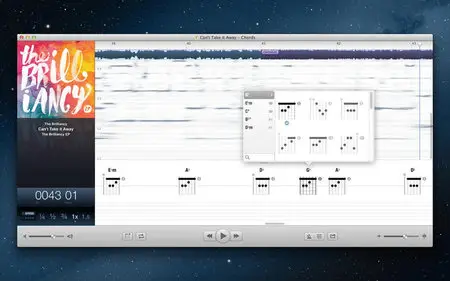 Capo 3.0.1 | Mac Os X | 10 MB
Capo 3 is a revolutionary tool that helps you learn the music in your iTunes library. By slowing your music, automatically detecting chords and quickly generating guitar tablature using the detailed spectrogram, Capo 3's award-winning capabilities let you learn to play your songs faster than ever.
Capo will change the way you learn to play music. The audio-to-note approach will soon seem so natural to you that you will no longer regard your favorite bands' music as inaccessible to play yourself. You can learn to play any music you have as a recorded audio file, whether an mp3, m4a, wav, or aiff file. This is the future of learning to play music. It's no wonder Capo won a prestigious Apple Design Award.
With Capo you can learn songs in an intuitive and flexible way. The automatic chord detection appears quickly when you load a song from iTunes, and then updates instantly as you change the key, place a capo on your instrument, or switch tunings.
But there's more to what musicians can now see in the music they're learning! Capo makes it easy to learn the details of a music performance using the visual representation of frequencies in an audio file called a "Spectrogram." Swipe across notes as you listen to the recording to instantly generate guitar tablature. No more searching online for tabs for your favorite new song – or classic song!
And the spectrogram is not only for quick transcriptions. See every nuance in the performance—the note bends, slurs, and vibrato—to visually reinforce what you are hearing.
World-class musicians are praising Capo's flexibility, speed, and reliability for learning and experimenting with music. Whether used as a problem solver in their day-to-day work of learning music for a gig or just to grow as a musician, Capo is inspiring some of today's top musicians in the industry.
Compatibility:
OS X 10.8 or later, 64-bit processor