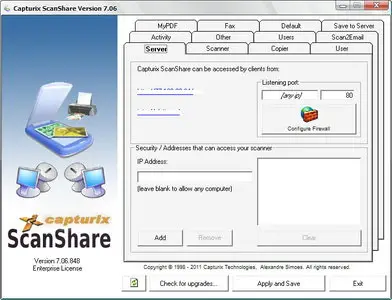 Capturix ScanShare 7.06.848 Enterprise Edition | 10.98 MB
Share a scanner device over the network. With this application you can share any compatible scanner (TWAIN) over the network and use it also as a copy machine.
Capturix ScanShare enables users to access your scanner via browser and scan documents, and take copies using the printer connected to the PC that is sharing the scanner.
With Capturix ScanShare you can also limit the color copies and ip addresses that access your device, this is the ideal tool to office. Why having a lot of printers or scanners per seat when you can share just one device.
This tool is very easy to setup… Now you can use Scan2E-mail, setup user profiles to use the scanner and many other. Scan to JPEG, PDF, BMP, PNG or to an email address.
Capturix ScanShare runs as a system service and support multiple scanners. It scans directly to JPEG/PDF/BMP/PNG ! Multiple Page scanning, Automatic Document Feeder and Duplex scanning is supported ! Flip and Invert without using other image software.
Home Page
-
http://www.capturix.com/