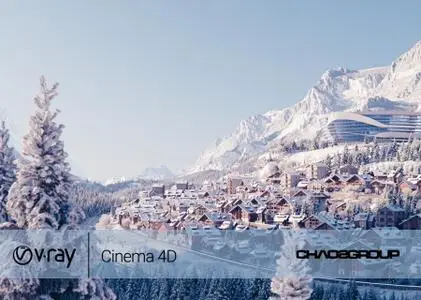 Chaos Group V-Ray 5.00.42 for Cinema4D | 820.6 mb
Chaos Group releases V-Ray 5 for Cinema 4D, a massive upgrade that packs every advancement from V-Ray 5 and V-Ray Next into one easy-to-use rendering solution. V-Ray 5 for Cinema 4D can fit into any production workflow, saving artists countless hours with its built-in compositing, interactive light mixing and scene intelligence tools that render scenes up to 7x faster.
Beyond Rendering
With Light Mix, artists can create dozens of lighting scenarios from a single render. Color and light intensity can now be adjusted instantly in the new V-Ray Frame Buffer (VFB) without ever having to render again. Once everything is right, artists can save their recipes, send the layers to compositing and update the lights in their scenes.
For the first time, a new Layer Compositor will allow artists to composite their renders directly in the VFB. Users can now combine and grade render passes, set blending modes and adjust colors without using a separate application.
Scene Intelligence
To remove unnecessary set-up time from the creative equation, V-Ray 5 for Cinema 4D comes with automatic scene analysis tools that will help artists produce faster, cleaner renders with no extra effort.
Cleaner, more accurate environment lighting can now be produced up to 7x faster with the Adaptive Dome Light (ADL). Point-and-shoot-style timesavers like Automatic Exposure and Automatic White Balance are now part of the V-Ray Physical Camera, so achieving the perfect render will be as easy as taking a snapshot. AI denoising has also been added to offer noise-free updates at interactive speeds, providing instant insights into lighting adjustments.
Faster GPU Rendering
The same V-Ray GPU architecture that made it two times faster in V-Ray Next is now delivered to C4D users. Artists can now take full advantage of their hardware, rendering on GPUs, CPUs or a combination of both. With full support for NVIDIA RTX cards, V-Ray 5 for Cinema 4D is primed for rapid boosts, helping artists hit the highest heights of production rendering.
Other New Features in V-Ray 5 for Cinema 4D Include:
-
Fast Interactive Rendering
– Artists can now view changes in the moment, helping them create the look they want, without the wait.
-
Distributed Rendering
– Harness the power of multiple machines working together to render images even faster.
-
Chaos Cloud
– Render stills and animations at the push of a button with Chaos Group's cloud rendering service.
-
Volume Rendering
– Easily render realistic fog, smoke and atmospheric effects or bring in volume grid caches from Houdini, FumeFX and Phoenix FD.
-
Coat Layer
– The updated V-Ray Material can now generate reflective coatings on surfaces without the use of blend materials.
-
Sheen Layer
– Easily simulate soft, microfiber fabrics like velvet, satin and silk inside the updated V-Ray Material.
-
Metalness
– Metalness reflections are now supported directly by the V-Ray Material, making it fully compatible with PBR workflows.
-
Car Paint 2 Material
– A new car paint material can take automotive renders to the next level with realistic flakes and less memory.
-
Improved V-Ray Dirt
– Add dirt to cracks and crevices, create procedural streaks or cover an entire surface for a more weathered look.
-
Physical Hair Material
– Achieve more realistic results with the new physically accurate V-Ray Hair Material.
-
New Sun and Sky Model
– Capture the light of magic hour. The improved Sun and Sky model is more accurate and looks better at sunrise and sunset, even as the sun dips below the horizon.
-
Texture Randomization
– Аdd variety to scenes by randomizing colors and textures with V-Ray Multi Sub Texture.
-
VRscans Material Library Support
– Access a library of over 1,000 photorealistic materials that can be dropped into any V-Ray scene file.
-
Native Support for Cinema 4D Noises
– Enhance renderings with different noise patterns and detailed surfaces. Now with less memory consumption.
-
Light Path Expressions
– Artists can now create their own render passes for the ultimate control in compositing.
-
Blue-Noise Sampling
– Artists will now see less noise in their renders using the same amount of samples.
-
Out-of-Core GPU Rendering
– Initial support for out-of-core geometry helps users break through memory constraints to render larger scenes.
New Features
- Implement Chaos Cloud Submit dialog and initial integration with Cloud client
- Add support for VRScans (V-Ray Scanned Material)
- Implement MultiSubTex shader

Improvements
- VolumeGrid voxel and bounding box preview for loaded caches
- Support for Cinema 4D noises with V-Ray GPU
- Add Object Select Render Element
- Add MultimatteID Render Element
- Support for the Cinema 4D "Background" object
- Implement V-Ray image output options
- Keep the FOV when Film Gate is changed and Specify FOV is checked
- V-Ray Light previews should hide when the Viewport filter for lights is off
- Make the Auto White Balance option a checkbox
- Set the default Mix Type for some float textures to "Normal"
- Change the size step for several real parameters to be more intuitive
- Improve user interface for V-Ray FastSSS2 and Light material
- Improve user interface for V-Ray Dirt and Distance shaders
- Improve user interface for V-Ray Sun
- Menu command for triggering V-Ray 3.7 scene conversion

Bug Fixes
- Drag and Dropping a material to a polygon selection doesn't create a selection tag
- Polygon selections are not working correctly with correction deformer attached to objects
- Polygon selections are not working when the name of the poly select tag is the same as the texture tag name
- Region rendering with production does not work on the first render
- Exporting a vrscene with single non-zero frame does not render the same frame
- Textures loaded with V-Ray bitmap are not saved correctly in the content browser
- VFB spin controls delimiter does not match the one in Cinema 4D
- Textures are not mapped in Environment fog and VolumeGrid
V-ray 5 for Cinema4D Materials
V-Ray for Cinema 4D
puts industry-standard technology for photorealistic 3D rendering into the hands of Cinema 4D artists and designers. With smart tools and powerful rendering capabilities, V-Ray's combination of speed and creative control is perfect for any project.
V-Ray 5 for Cinema 4D, a massive upgrade that packs every advancement from V-Ray 5 and V-Ray Next into one easy-to-use rendering solution. V-Ray 5 for Cinema 4D can fit into any production workflow, saving artists countless hours with its built-in compositing, interactive light mixing and scene intelligence tools that render scenes up to 7x faster.
"C4D users finally have access to the full V-Ray experience," said Phillip Miller, vice president of product management at Chaos Group. "This is a complete modernization of the product that will allow us to update it at the same pace as our other V-Ray integrations. No more waiting!"
V-Ray 5 for Cinema 4D — Now available
Chaos Group
is a worldwide leader in computer graphics technology, helping artists and designers create photorealistic imagery and animation for architecture, design, and visual effects. Chaos Group's award-winning physically-based rendering and simulation software is used daily by top design studios, architectural firms, advertising agencies, and visual effects companies around the globe. Today, the company's research and development in ray-traced rendering, cloud computing and real-time ray tracing is shaping the future of creative storytelling and digital design. Founded in 1997, Chaos Group is privately owned with offices in Sofia, Los Angeles, Prague, Seoul, and Tokyo.
Product:
Chaos Group V-Ray
Version:
5.00.42
Supported Architectures:
x64
Website Home Page :
www.chaosgroup.com
Language:
english
System Requirements:
*
Software Prerequisites:
*
Size:
820.6 mb
Please visit my blog
Added by 3% of the overall size of the archive of information for the restoration

No mirrors please