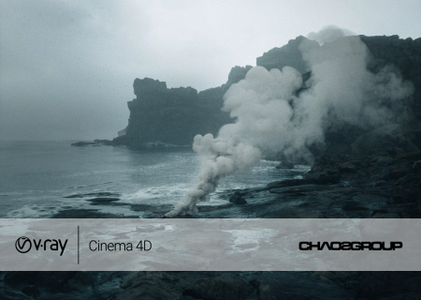 Chaos Group V-Ray 5.10.20 for Cinema4D | 1.2 Gb
The software developer Chaos Group is pleased to announce the availability of V-Ray 5.10.20 for Cinema 4D. This release additions V-Ray node space for node materials, V-Ray Clipper as scene object, V-Ray Fur as scene object and many more.
New Features:
- V-Ray: Add V-Ray node space for node materials
- V-Ray: Add V-Ray Clipper as scene object
- V-Ray: Add V-Ray Fur as scene object
- VRayVolumeGrid: Add Slice and Mesh preview options
- V-Ray: Cryptomatte in progressive
- V-Ray: Progressive caustics mode
- VRayEnvironmentFog: Environment Fog colored transparency
- VRayMtl: New translucency modes for VRayMtl (based on VRayScatterVolume)
- VRayMtl: Thin-walled refraction option
- VFB: Now possible to change or remove VFB2 shortcuts
- VFB: Layers masking based on Cryptomatte, integer and color render elements data
- VFB: Added stamp layer support
- VFB: Custom White Balance support for color picker and tint
- VFB: Support for animated sequences for Background layer using tag
- VFB: Added an option to bake the RGB primaries conversion
- VFB: Added horizontal/vertical offset for Background layer
- VFB: Image Info for the history images
- VFB: Added the frame number to the VFB History image info overlay
- VFB: Save color corrections to a LUT file
- V-Ray: Added an option to switch between world units and pixels as photon lookup radius for the caustics photon map
- VRayDomeLight: Support for multiple Dome lights for Light Mixing
- V-Ray/vdenoise: Integrated Intel Open Image Denoiser
- VRayRectLight, VRayLightSphere: Added "Occlude other lights" option for V-Ray lights
- VRaySun/V-Ray GPU: Added support for blending the sun with the horizon with the Improved sky model
- V-Ray/V-Ray GPU: Added support for tiled textures with large amount of tiles on V-Ray GPU
- V-Ray/V-Ray GPU: Rounded corners, VRayDirt, VRayCurvature, VRayFastSSS2, VRayAlSurfaceMtl, VRayClipper support with Out-Of-Core geometry
- V-Ray GPU: Added support for normal maps in world space
Modified features:
- V-Ray: Improve include/exclude object lists usage with hierarchies
- VRayTriplanar Replaced the "scale" parameter of the VRayTriplanar texture with "size" dependent on the scene units
- V-Ray: Consider MotionBlur tag for disabling motion blur on objects
- V-Ray GPU: Optimized CUDA CPU performance
- V-Ray/V-Ray GPU: Improved volume intersection & shading
- V-Ray: Faster initialization of meshes with static 3D displacement in Standalone
- V-Ray: Mixed filtering option for ZDepth
- V-Ray GPU: Optimized interactive scene updates with OptiX
- V-Ray GPU: Implemented displacement in world space
- V-Ray GPU/VRayDirt: Add support for dirt and curvature attached to extra tex when OOC geometry is enabled
Bug Fixes:
- V-Ray Proxy: Fixed export of animated proxy.
- V-Ray: Fixed VFB History loading very slowly when OCIO configuration is used for display
- V-Ray: Fixed Dark coat over refractive VRayMtl
- V-Ray GPU/VRayBlendMtl: Fixed fireflies in additive mode with multiple coat layers
- V-Ray: Fixed slow CarPaint2 preview rendering
- V-Ray: Fixed difference between glossy and mirror caustic reflections from metallic surfaces
- V-Ray: Fixed VRayCarPaintMtl2 coat IOR <1 not consistent in V-Ray and V-Ray GPU
- V-Ray GPU: Fixed GPU Memory leaks after interactive updates when there is CarPaint2 material in the scene
- V-Ray GPU: Fixed texture on objects with normal displacement appearing smudged in GPU production renders with on-demand mipmapping
- V-Ray GPU: Fixed crash when using vrmesh file with more than 16 material and UV maps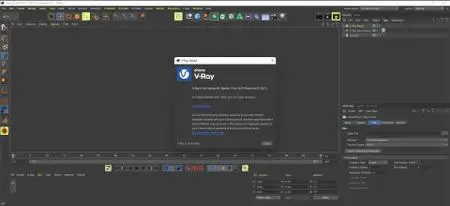 V-Ray for Cinema 4D
puts industry-standard technology for photorealistic 3D rendering into the hands of Cinema 4D artists and designers. With smart tools and powerful rendering capabilities, V-Ray's combination of speed and creative control is perfect for any project.
V-Ray 5 for Cinema 4D, a massive upgrade that packs every advancement from V-Ray 5 and V-Ray Next into one easy-to-use rendering solution. V-Ray 5 for Cinema 4D can fit into any production workflow, saving artists countless hours with its built-in compositing, interactive light mixing and scene intelligence tools that render scenes up to 7x faster.
"C4D users finally have access to the full V-Ray experience," said Phillip Miller, vice president of product management at Chaos Group. "This is a complete modernization of the product that will allow us to update it at the same pace as our other V-Ray integrations. No more waiting!"
Webinar: V-Ray 5 for Cinema 4D
Chaos Group
is a worldwide leader in computer graphics technology, helping artists and designers create photorealistic imagery and animation for architecture, design, and visual effects. Chaos Group's award-winning physically-based rendering and simulation software is used daily by top design studios, architectural firms, advertising agencies, and visual effects companies around the globe. Today, the company's research and development in ray-traced rendering, cloud computing and real-time ray tracing is shaping the future of creative storytelling and digital design. Founded in 1997, Chaos Group is privately owned with offices in Sofia, Los Angeles, Prague, Seoul, and Tokyo.
Product:
Chaos Group V-Ray
Version:
5.10.20 (Update 1)
Supported Architectures:
x64
Website Home Page :
www.chaosgroup.com
Language:
english
System Requirements:
*
Size:
1.2 Gb
Please visit my blog
Added by 3% of the overall size of the archive of information for the restoration

No mirrors please