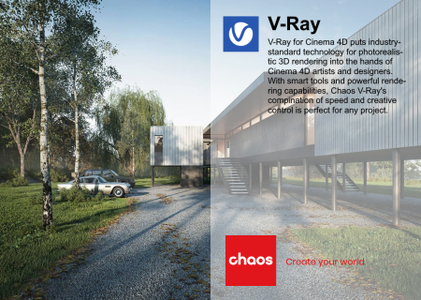 Chaos Group V-Ray 5 Update 2.4 (5.20.04) for Cinema4D R26 | 319.6 mb
The software developer Chaos Group is pleased to announce the availability of V-Ray 5 Update 2.4 (5.20.04) for Cinema4D R26. This release intended to solve minor problems and "bugs" in 5.20.03 release and also adds new feature.
Update 2.4 (5.20.04) Official release - Date: Apr 27, 2022 New features
- Support for Cinema 4D S26
- Implement V-Ray Override Material
Bug fixes
- Coat glossiness might produce NaN values in certain scene setups
- Filter shader with empty input exports invalid vrscene
- Fusion shader with empty channel exports invalid vrscene
- Crash when VFB is opened in Cinema 4D R20
- Corrupted node materials when changing versions
V-Ray for Cinema 4D
puts industry-standard technology for photorealistic 3D rendering into the hands of Cinema 4D artists and designers. With smart tools and powerful rendering capabilities, Chaos V-Ray's combination of speed and creative control is perfect for any project.
V-Ray 5 brings a whole new rendering experience to Cinema 4D. With new smart tools and workflows, plus an intuitive interface, it's faster and easier than ever. V-Ray 5 for Cinema 4D goes beyond rendering with built-in compositing and interactive light mixing. Go beyond rendering, untap the power of V-Ray and work smarter.
Webinar: V-Ray 5 for Cinema 4D
Chaos Group is a worldwide leader in computer graphics technology,
helping artists and designers create photorealistic imagery and animation for architecture, design, and visual effects. Chaos Group's award-winning physically-based rendering and simulation software is used daily by top design studios, architectural firms, advertising agencies, and visual effects companies around the globe. Today, the company's research and development in ray-traced rendering, cloud computing and real-time ray tracing is shaping the future of creative storytelling and digital design. Founded in 1997, Chaos Group is privately owned with offices in Sofia, Los Angeles, Prague, Seoul, and Tokyo.
Product:
Chaos Group V-Ray 5
Version:
Update 2.4 (5.20.04) for Cinema4D R26
Supported Architectures:
x64
Website Home Page :
www.chaosgroup.com
Languages Supported:
english
System Requirements:
Windows *
Size:
319.6 mb
Please visit my blog
Added by 3% of the overall size of the archive of information for the restoration

No mirrors please