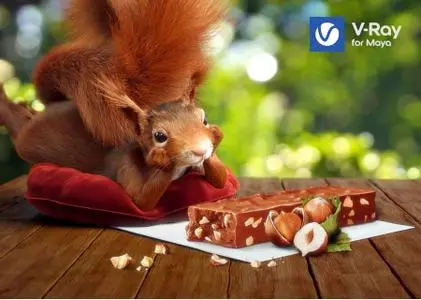 Chaos Group V-Ray 5.10.20 for Maya 2022 | 404.9 mb
The software developer Chaos Group is pleased to announce the availability of V-Ray 5.10.20 for Autodesk Maya 2022. This release additions VFB improvements (masks, background layer, stamp layer, etc), VRayMtl improvements, Cryptomatte improvements, Environment Fog improvements, GPU improvements and many more.
V-Ray
is a complete interactive lighting, shading and rendering toolkit, giving you full control over the entire creative process, from real-time look development to the final frame.
V-Ray has been lining the bed of the visualization and rendering industry since the early days of computer generated graphics. Very few people who are even closely associated with computers and graphics technology know what Chaos Group's flagship software is, and how dominant it is in terms of user-base and capability.
Chaos Group has released V-Ray 5 for Autodesk Maya, the next major version of the production renderer – and the first of the next generation of updates to the entire V-Ray product family
The update radically reworks the V-Ray Frame Buffer, adds a new material library and asset browser, and makes a range of other key improvements to V-Ray materials and the V-Ray GPU render engine.
V-Ray 5 for Maya — Webinar: What's New
Chaos Group
is a worldwide leader in computer graphics technology, helping artists and designers create photoreal imagery and animation for design, television, and feature films. Chaos Group specializes in physically-based rendering and simulation software used daily by top design studios, architectural firms, advertising agencies, and visual effects companies around the globe. Today, the company's research and development in cloud rendering, material scanning, and virtual reality is shaping the future of creative storytelling and digital design. Founded in 1997, Chaos Group is privately owned with offices in Sofia, Los Angeles, Baltimore, Seoul, and Tokyo.
Product:
Chaos Group V-Ray
Version:
5.10.20
Supported Architectures:
x64
Website Home Page :
www.chaosgroup.com
Language:
english
System Requirements:
PC *
Supported Operating Systems:
*
Software Prerequisites:
Autodesk Maya 2022
Size:
404.9 mb
Please make sure that your system fulfills these requirements before installing V-Ray. Note that V-Ray is only supported for 64 bit operating systems and 64 bit versions of Maya.

Processor 1st Gen Intel Core or compatible processor with SSE4.2 support (x64)
RAM 4 GB RAM and 4 GB swap minimum – recommended 8 GB or more RAM, 8 GB or more swap file; (Actual amount required will vary with scene requirements.)
USB Port Required for customers using legacy hardware lock, preferably USB 2.0
TCP/IP Only IPv4 required for distributed rendering is supported. IPv6 is currently not supported
GPU Acceleration NVIDIA CUDA: Maxwell-, Pascal-, Volta- and Turing-based NVIDIA card(s) with with latest recommended video driver or at least version 441.20;
NVIDIA RTX: RTX cards with latest recommended video driver or at least version 441.28;
V-Ray Production Denoiser: AMD or NVIDIA GPU supporting OpenCL 1.2;
NVIDIA AI Denoiser: Maxwell, Pascal, Volta or Turing-based NVIDIA card with latest recommended video driver or at least version 441.20
Please visit my blog
Added by 3% of the overall size of the archive of information for the restoration

No mirrors please