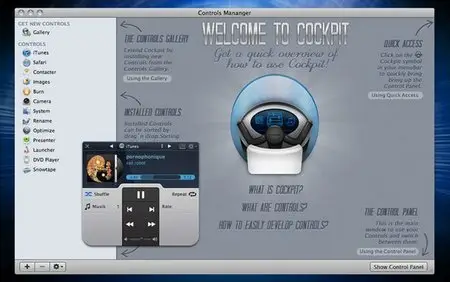 Cockpit 2.0.1 | Mac Os X | 6 MB
Cockpit is an easy to use and really flexible multi application controller and automation center for your Mac. You were searching a long time for a way to easily control your apps with a controller that is out of your way? You are looking for a way to run scripts, tasks and even more with a click of a button or just with a hotkey? With Cockpit you can do all this and even more.
Here are some key features of "Cockpit":
· Control like a Pro
· Automator integration
· Extend your Cockpit with Controls
· Execute your scripts
Custom Controls:
· unlimited number of custom Controls supported
· 11 workflows per control
· Automator integration
· Supports AppleScript, Shell Scripts, SQL and more
· Export Controls
· Import Controls
· Share Controls at our Controls Center
Global Hotkeys:
· for preinstalled and custom Controls (no need to switch controls when using hotkeys)
· for showing/hiding Cockpit
· for switching Controls
· Hotkey overlay for showing hotkey informations about the pressed hotkey
GENERAL
• Built in Help and Documentation
• Quick Access via Menuitem
• Use Dockicon, Menuitem or both
• Supports Tablet Gestures
• Fast Control switching
• Global Hotkeys for Control switching
• and much more
DEVELOP CONTROLS
• With Automator
• With Apple Script
• With Shell Script
• Converting types
• Support for Display/Overlay Messages
• Submit Controls to the Gallery
• Support for 2 icon types
• Built in Developer Documentation
PREINSTALLED CONTROLS
• System
• Safari
• iTunes
• Images
• Burn
• Rename
• Contacter
TECHNICAL INFORMATION
• Requires Mac OS X 10.6
• Intel Mac required
• Core Image
• Core Animation
• Universal Binary
• 32 Bit and 64 Bit supported
• AppleScript
CONTROLS OPTIONS
• Built in Controls Gallery
• Sort Controls via drag and drop
• Activate/Deactivate Controls
• Export Controls
• Global Hotkeys for Controls Tasks
Requirements
Intel
Mac OS X 10.6.6 or later.
1 GB RAM.
Version 2.0.1:
Fixed minor bugs reported by our users.