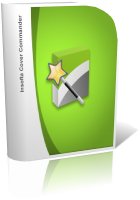 Insofta Cover Commander v2.9.1.1
Design | 5.23MB
Cover Commander creates professional, custom-designed virtual boxes, books, dvd-boxes, manuals, CD disks, and screenshots. Just a few mouse clicks is all that's necessary to get the job done. The program's extensive light, shadow, and reflection controls will allow you to create an image of just about any complexity and see the final picture as it is being made in the real-time preview window.
Insofta Cover Commander v2.9.1.1: Rapidshare | Megaupload
My Avax Softwares
My RapidShare Folder
Only softwarez with working serial, not cracked or patched, have fun!