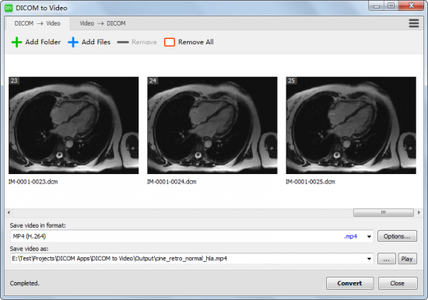 DICOM to Video 1.11.0 | 12.58 Mb
Working with medical imagery is a highly specialized job, which is mostly reserved to professionals and, in terms of software solutions, to advanced users.
Among the many applications dedicated to handling this specific type of data, DICOM to Video offers a simple approach to creating movie clips using as input the medical images. Well organized layout for creating DICOM-based videos
As soon as the simple setup procedure is completed, you will be able to start working with the program and make the most of its advanced capabilities.
The areas for adding the files to the processing queue, choosing the output format and location are clearly delimited and the main commands are easily accessible. Loading the items to be processed can be done either by picking one or more files at a time, or by selecting an entire folder.
Convert DICOM files to video and vice versa with minimal efforts
With regard to the supported medical image types, this app is equipped to handle a wide variety, which includes DCM, DICOM, HDR, IMG, MHD, VTK and many more.
Using this tool is actually a simple job and DICOM to Video comes with quite a few output formats to choose from. Besides the fact that it can create MP4, AVI, MPEG, DVD, VCD, WMV, FLV, MOV and 3GPP clips, the utility provides an advanced settings menu for each of them, so you can configure the video resolution and frame rate before carrying out the conversion.
The extraction of images from a video is done in just two steps, so all you have to do is select the source file and the output directory, then let the application work its magic.
Versatile DICOM conversion program
On the whole, DICOM to Video performs quite well and it is impressively easy to use, so it is well suited for users with less experience in operating such tools. The simple feature pack could use some more advanced functions, but since it does what it is supposed to quickly and accurately, it is worth at least a try.
Features :
Convert a series of DICOM images to a video.
Support RAW, JPEG, JPEG 2000, JPEG-LS, RLE, and most of DICOM formats.
Support MP4, FLV, AVI, WMV, MOV, 3GP, MPEG-2, MPEG-1, and other popular video formats.
Allow you to custom output video resolution and frame rate.
It can also convert video file to a series of DICOM images.
home page:
http://www.dicomapps.com/dicom-to-video/index.html
Language:
English