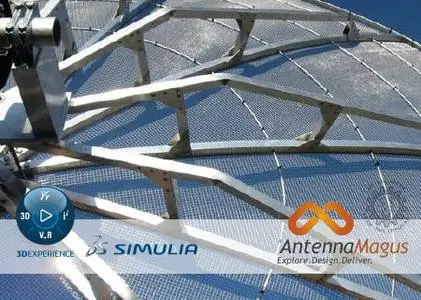 DS SIMULIA Antenna Magus 2021.2 | 1.8 Gb
Magus (Pty) Ltd. and CST – Computer Simulation Technology AG (CST) announce the release of Antenna Magus 2021.2. This release includes various features and improvements as well as a number of new antennas and extensions.
2021.2 Release Notes - Release date: 2 April 2021 New Devices
- Planar Triple Band Antenna [MAGUS-28894]
- Stacked Rectangular Dual V-Slot Patch [MAGUS-29123]
Device Extensions and Improvements
- Constructions involving panel mount SMA connectors are now available for the Rectangular Pin-fed Patch, Circular Pin-fed Patch and the Planar Inverted-F Antenna [MAGUS-29360]
- Two blade-shaped radomes were added to the Radome Library [MAGUS-29284]
- Several models were updated to use the new CST Studio Suite mesher rather than the legacy mesher [MAGUS-29365]
- In the Element Pattern Chooser, the Assign button has been updated to always open the dropdown menu [MAGUS-29357]
Bug Fixes
- Where possible, assigned patterns will no longer be cleared when changes are made to the base layout [MAGUS-29353]
- Element orientation after certain mirror operations may have been incorrect. This has been fixed [CST-65100]
- The incorrect taper factor of Vivaldi antennas at low frequencies has been fixed [CST-62245]
Antenna Magus
is a software tool for the acceleration of the antenna design and modeling process. Validated antenna models can be exported to CST Studio Suite from a huge antenna database of over 350 antennas.
Antenna Magus has proven to be an invaluable aid to antenna design engineers and to anyone who requires antenna models for antenna placement and/or electromagnetic interference studies. An engineer can make a more informed choice of antenna element, providing a good starting design and thus increasing efficiency.
Antenna Magus How-To Tutorials | Antenna Design | Electromagnetics
MAGUS (Pty) Ltd.
develops antenna design and information management software. Antennas designed using its software can be used in a wide variety of applications at various frequency bands, including, but not limited to, telecommunications, mobile devices, aerospace, satellite, automotive, radio astronomy and defense.
CST- Computer Simulation Technology AG
founded in 1992, is a market leader in delivering 3D electromagnetic (EM) field simulation tools through a global network of sales and support staff and representatives. CST develops CST STUDIO SUITE, a package of highperformance software for the simulation of EM fields in all frequency bands. Its growing success is based on a combination of leading edge technology, a user-friendly interface and knowledgeable support staff. CST solutions are used by market leaders in a diverse range of industries, including aerospace, automotive, defense, electronics, healthcare and telecommunications. On September 30 2016 CST joined the SIMULIA brand of Dassault Systemes
Dassault Systèmes, the 3DEXPERIENCE Company,
is a catalyst for human progress. We provide business and people with collaborative virtual environments to imagine sustainable innovations. By creating 'virtual experience twins' of the real world with our 3DEXPERIENCE platform and applications, our customers push the boundaries of innovation, learning and production.
Product:
Antenna Magus
Version:
Pro 2021.2 (11.2.0)
Supported Architectures:
x64
Website Home Page :
www.antennamagus.com
Language:
english
System Requirements:
PC *
Software Prerequisites:
CST Studio Suite 2021 and above
Size:
1.8 Gb
Antenna Magus is built for: 64-bit systems running Windows VISTA Business, Windows 7 supporting Service pack 1, Windows 8, Windows 8.1, Windows 10 or Windows Server 2008/2012.
Please visit my blog
Added by 3% of the overall size of the archive of information for the restoration

No mirrors please