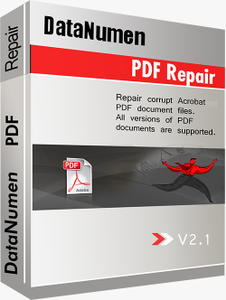 DataNumen PDF Repair 2.3.1.0 | 6.30 Mb
DataNumen PDF Repair is best PDF recovery tool in the world. It can repair the corrupt or damaged Acrobat PDF files and recover as much of your data as possible, thereby minimizing the loss in file corruption.
Features :
Support for Windows 95/98/ME/NT/2000/XP/Visa/7/8/8.1/10 and Windows Server 2003/2008/2012/2016/2019.
Support to recover all versions of Acrobat PDF files.
Support to recover pages as well as images in the PDF documents.
Support to repair different PDF file format errors.
Support to repair PDF files that do not comply with the PDF specification.
Support to repair PDF files on corrupted media, such as floppy disks, Zip disks, CDROMs, etc.
Support to repair a batch of PDF files.
Support to find and select the PDF files to be repaired on the local computer.
Support integration with Windows Explorer, so you can repair an Acrobat PDF file with the context menu of Windows Explorer easily.
Support drag & drop operation.
Support command line (DOS prompt) parameters.
Can be used as a computer forensic tool and electronic discovery (or e-discovery, eDiscovery) tool.
Home Page:
https://www.datanumen.com/index.htm
Language:
English