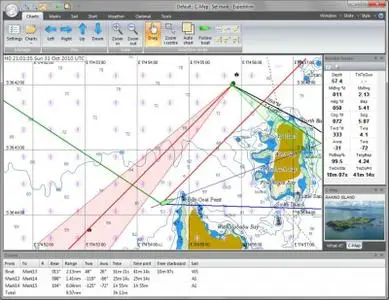 Expedition 11.0.14 MAX | 93.66 Mb
Expedition has been created as a navigational tool for yacht races. It provides a large set of features that can help finding the best path in the waters in order to make the most of the weather and the vessel's capabilities.
Clear-cut, appealing interface
Installing the application is not complicated and following the brief instructions on the screen is enough for smooth sailing till the operation completes.
The interface looks very clean and presents the data in a manner that even a regular user would consider appealing and clear, with a nautical map dominating most of the main application window and the menus and options available in the top part.
Charting, weather information and buoy racing functionality
The chart is the main tool in water navigation and in this case it comes with plenty of details, especially for the more popular waters. Information such as minimum and maximum depth of the water or the territory it belongs to.
Built into the application is a chart plotter that can select the necessary chart as well as rotate it for a better view. The program works with C-Map NT+ and MAX, some versions of Bsb, Softcharts, NV-Verlag and Maptech PCX.
Expedition also provides weather tools that connect to various services to retrieve not only the latest reports but also details about tides and currents. Moreover, the application can show the navigator the optimum routes as far as the weather is concerned.
Buoy racing functionality has been integrated into the software, too, offering a slew of options for creating and correcting the course, calculate the handicap, checking the sail chart or viewing the optimal routing.
Comprehensive tactical and navigation software
Expedition's full potential can be uncovered by actually using it on the water. Apart from providing great charting tools and options it can retrieve information from various services and offers the possibility to calculate the best route under the current conditions.
FEATURES
Chart-plotter that seamlessly selects, moasaics and rotates charts
Advanced weather display and tools
Simply the best weather routing available
Start display and advanced buoy racing functions
Instrument connectivity with all popular instrument systems
Whats New:
Aft depth channel,
eGrib and MrGrib file sizes and issue times,
Improved SART alert,
Option to calculate XTE from boat or previous mark,
Fix issue where YB Tracking could crash Exp,
Various performance, interface & reliability updates.
homepage:
https://www.expeditionmarine.com
Language:
English