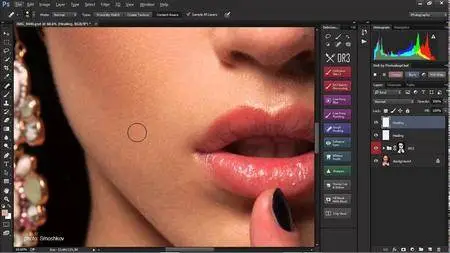 Delicious Retouch 3.0.6 Plug-in for Adobe Photoshop (Win/Mac) | 95.0 MB
The all-new DR3 extension panel for Adobe Photoshop CS6 - CC 2015 is a set of easy-to-use tools designed to help photographers speed up their portrait, beauty and fashion retouching workflow.
All-new Photoshop panel for retouching.
The new Delicious Retouch 3 is not just an another panel, it's a set of powerful scripts designed to help you get better results in just a fragment of time. From subtle, everyday retouching, to magazine-quality closeups, DR3`s tools are easy-to-use, while giving you absolute control over final result.
- DR3 is compatible with Adobe Photoshop CS6 – CC 2015 both on Mac OSX and Windows. It's coded in HTML5 and JavaScript.
- DR3`s tools "take the work out of your workflow", significantly reduce time spent retouching and so increase your productivity.
- DR3 brings the best, pro-level retouching Photoshop techniques right to your desktop, in an easy-to-use form.
More Features:
- Built-in dialogs with sliders and options give you all the control you need to keep things up to your taste.
- DR3`s tools works same good whether you are working in 8bit or 16bit mode.
- No matter what resolution your photo is , or whether you are working on closeup or group photo, it adapts to give best results.
- Instructional messages and alerts let you know what to do, or if you are doing something wrong.
- DR`s scripts run within a single history step, so you can allways go back and forward with "Ctrl" + "Z" shortcut.
- DR3`s tools never touch other layers and you can even work "below" other adjustment layers without problems.
Requirements: Adobe Photoshop CS6 - CC.
Home Page
-
http://www.photoshopchef.com