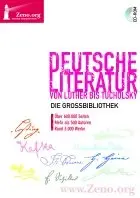 Digitale Bibliothek Band1 Deutsche Literatur
Zeno.org | 2005 | ISBN-13: 9783898536011 | >600k pages | digibib library | 215 MB
Zeno.org's Digitale Bibliothek is one of the largest collection of german literature and arts. In the first of over a hundred of series comes together over 500 german authors with more than 2.900 works of literature form over five centuries.
From the website:
Eine Bibliothek der Superlative!
Diese DVD ist die mit weitem Abstand umfangreichste digitale Sammlung deutschsprachiger Literatur. Sie präsentiert auf mehr als 600.000 Seiten das literarische Schaffen von über 500 Autoren und damit über 2.900 teils mehrbändige Werke.
Die Sammlung ermöglicht Entdeckungsreisen durch fünf Jahrhunderte der deutschen Literatur, wie sie bislang allenfalls in großen Bibliotheken möglich waren. Durch den Nutzungskomfort einer ausgereiften Software, die sich seit Jahren in der Literaturrecherche bewährt, lassen sich Genres, Stoffe und Motive in ihren Entwicklungen von den ersten neuhochdeutschen Dichtungen bis in das erste Drittel des 20. Jahrhunderts verfolgen.
Die lieb gewonnenen Stärken der vormals erschienenen Edition »Deutsche Literatur von Lessing bis Kafka« kommen bei der vorliegenden Großbibliothek angesichts ihres vielfachen Umfangs zu noch eindrucksvollerer Geltung.
Inhalt: Über 1.300 Romane, Erzählungen und Autobiographien – Über 2.000 Prosatexte – Über 23.000 Märchen und Sagen – Über 600 Essays und theoretische Schriften – Über 500 Dramen – Über 60.000 Gedichte
http://www.digitale-bibliothek.de/export/Produktgalerie.htm
You need the read software Digitale Bibliothek for windows:
Windows Digibib Software
Password: vDK[]!"aO(7uz+U:@"7'6;Ue<
and for mac:
Mac Digibib Software
Digitale Bibliothek Band 1 "Deutsche Literatur"

Password: "DB001Studienausgabe.rar"