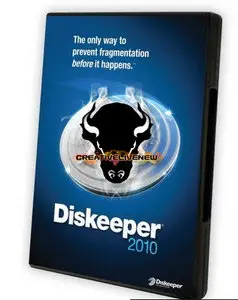 Diskeeper 2010 Pro Premier Build 898 | 38.88 MB
Diskeeper
- fast defragmenter for Windows, which runs six times faster than built-in defragmenter. The program requires a minimum of system resources to maintain maximum productivity. Defrag runs in the background without causing a noticeable effect on the user experience. Intelligent planning dynamically adjusts the schedule defragmentation process on the basis of the disk. From a user or network administrator does not need to take into account the network load - Diskeeper automatically adjusted to it and provide it with maximum efficiency.
In contrast to the defragmenter with manual control, this program is executed in accordance with the schedule of automatic defragmentation. Includes the deployment and management tools via the network, as well as functions simultaneously defragment multiple partitions with different file systems. To have your computer worked well, as fast as when it was new - just install Diskeeper.
Features:
"Advanced technology InvisiTasking
"Advanced technology I-FAAST ™
"Intelligent defragmentation
"Low consumption of system resources
"High dvizhek defragmentation
"Enhanced thorough consolidation of free space
"Defragment volumes with less than 1% free space
"Defragmenting highly fragmented files
"Support for 64-bit Windows
"Improved system boot file defragmentation
"Automatic online directory consolidation
"Simultaneous defragmentation of all volumes
"Support for unlimited size volumes
"Doing history records
"Power Management for Notebooks
"Graphical controls at runtime
"Improved support for Group Policy Management
"Support the Office of MOM / SCOM
"Improved sentralizirovanny administrative control
"Support for server versions of Windows Enterprise Server
"Support for IPv6 networks
Platform / OS: Windows All
Language: English
DOWNLOAD:
HOTFILE | FileFactory.com
NO MIRROR PLEASE!!!
MY BLOG:
http://avaxhome.ws/blogs/presoft