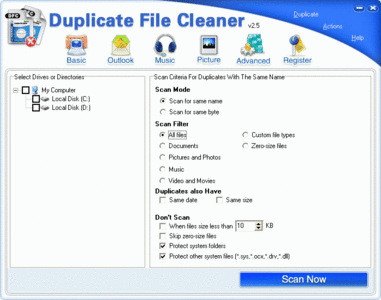 Duplicate File Cleaner v2.5.2 Build 141 Portable | 2.8 Mb
Mainly, duplicate files cause the waste of disk space. They cover up hard disks, slow down speed, and cost you more on backup. Duplicate File Cleaner can find out and delete duplicate files in your computer very effectively, in order to release your disk space and increase your computer speed!
Duplicate File Cleaner™ Features:
* Fast Find&Clean duplicate Musics, Photos, Outlook Emails
o Innovative search engine with fast speed
o Verify the duplicate content detailed to Byte-by-byte
o Duplicate Outlook Emails Detector with special options
o Duplicate Music Detector with special options
* Support Any Mobile Devices
o Duplicate File Cleaner can find and remove duplicate files in your iPod, iPhone, Zune, Zip, PSP, Mp4,etc
* Intelligently Scan Your System
o The industry-leading scanning engine can analyze and detect leftover files in background instead of manual intervention.
* Cover More of the formats
o With Duplicate File Cleaner, you can easily and fast find out and clean various kinds of duplicate files for you.Duplicate document
o Duplicate Music
o Duplicate Photos
o Outlook duplicate emails
* Flexible Scan option
o Search files by the same name or by the same content
o Size conditions & skip zero-length files option
* Safely search for duplicates from selected folders or drivers
o Add multiple folders/drivers for scanning
o Protect system files and folders
o Move files to Recycle Bin or delete duplicate files permanently
o Mark selected duplicates by renaming them with added prefix - to test which files is safe to delete
* Easy to Use and User-Friendly Interface
o 1-click Scan and 1-click Clean make removing duplicate files easily and even computer newbies can handle it without any problem.
* Duplicate file management - remove only unnecessary duplicates
o Select files manually (for deletion) or use flexible selection options
o Rename duplicate files with prefix/postfix
o Move duplicate files to folder
o Open folder containing selected file
o Show file properties
* Export the list of duplicate to HTML document
o It is a useful feature required by many customers.
o Let you review the duplicate files easily
* Service is also a Great Feature
o Though Duplicate File Cleaner is powerful to find out and clean most of duplicate files, it is not the ultimate tool to do everything you need. When you need to do more with Duplicate File Cleaner, just submit your requests to us. Duplicate File Cleaner will be the better solution for duplicate file searching and cleaning by providing both the powerful toolkits and on-demand services. That is to say, when you are using Duplicate File Cleaner, you are not only having the handy toolkits but also the great services from our professionals.
Homepage -
http://www.duplicatefilecleaner.com/