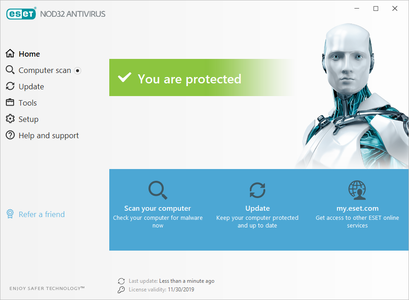 ESET NOD32 Antivirus 13.0.22.0 Multilingual | 110.5 Mb
ESET NOD32 Antivirus is a popular and one of the best anti-malware program. It has integrated real-time protection against viruses, worms, trojans, spyware, adware, phishing, and hackers. It is built for a low footprint, fast scanning. And packs security features and customization options for consistent and personalized security online or offline. ESET NOD32 Antivirus protects you at the highest level while you work online, social network, download files, play online games or exchange data via removable media.
ESET NOD32 Antivirus utilizes multiple layers of detection and unique cloud technology to keep out threats and block all potential attacks vectors.
ESET NOD32 Antivirus puts all needed actions at your fingertips. The graphical user interface with customization options puts you in control and keeps you up-to-date on important events.
Another important thing, ESET solutions are built on ESET's one-of-a-kind ThreatSense technology. This advanced heuristics engine enables proactive detection of malware not covered by even the most frequently updated signature-based products. It decodes and analyzes executable code in real time, using an emulated environment. Furthermore, ESET NOD32 Antivirus is able to clearly differentiate between benign files and even the most sophisticated and cleverly-disguised malware.
Keeps you safe from viruses, spyware, trojans, password stealers and other malware threats.
Stops most new threats proactively, well before other vendors have issued a signature, maximizing your defense against new and unknown threats.
Scans and cleans Internet traffic and email, even when it's SSL-encrypted, so your email is always safe.
Stops threats from entering through removable devices so you can share files with confidence.
Integrated SysInspector and SysRescue simplify system diagnosis and recovery.
Self defense prevents malware from degrading your level of protection.
Tiny signature updates happen discretely as needed and won't bog down your system.
Key Features and Benefits:
ESET Live Grid. Cloud-powered scanning delivers optimized real-time protection against Internet threats and social media exploits.
Gamer Mode. Lets you focus on your online sessions or important work tasks without distractions.
Energy Saving Mode. Identifies when laptop is running on battery and automatically postpones scheduled tasks alerting you before larger update downloads.
Smart Detection. Advanced heuristic detection technology protects you from unknown threats and flags unfamiliar mutations of known malware.
Enhanced Media Control. Automatically scans all USB flash drives, memory cards and CDs/DVDs. Blocks removable media based on type of media, manufacturer, size and other attributes.
Advanced HIPS Functionality. Now you can customize the behavior of the system in greater detail. Specify rules for the system registry, active processes and programs, and fine-tune your security posture.
Light Footprint. It is a smart solution with extremely low system footprint. Ensures fast and smooth performance for a continual level of security.
Advanced memory scanner provides protection against obfuscated threats.
Exploit blocker. Protects browsers and other popular applications from threats exploiting vulnerabilities in these applications.
Improved cleaning of rootkits. Ensures that even in case of infection with persistent malware, the system will be restored to a working malware-free state.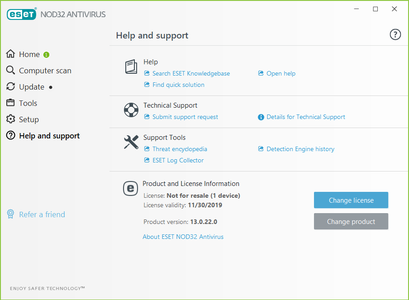 Supported Operating Systems:
Microsoft Windows 10
Microsoft Windows 8.1
Microsoft Windows 8
Microsoft Windows 7 SP1 with latest Windows updates
Microsoft Windows Home Server 2011 64-bit
Home Page
-
https://www.eset.com/